Despite the fact that calcium is one of the most abundant minerals in our bodies, many people suffer from calcium deficiency, which weakens their bones and leads to conditions like hypocalcemia and osteoporosis.
Calcium is required for proper function, but the majority of people do not get enough calcium in their diet.
However, many of these people are unaware that the proper diet, or even a regular dose of some of the dry fruits, can strengthen their bones and prevent such conditions.
This is why, I've compiled a list of dry fruits that are rich in calcium and will help you maintain healthy and strong bones.
Also read: 10 Best Protein Rich Dry Fruits To Add To Your Diet
Why choose dry fruits?
Calcium can be found in a variety of foods, including vegetables, fruits, grains, cereals, and dairy products.
Then why should one choose dry fruits?
Here are some strong reasons to choose dry fruits:
Dry fruits have a long shelf life and do not go bad. In fact, some dry fruits such as almonds and walnuts can last for more than two years if properly stored. They are also easier to transport while traveling, making them an excellent addition to your diet.
In addition to being high in calcium, dry fruits are also a good source of other nutrients. They're high in protein, fiber, iron, thiamine, riboflavin, folate, magnesium, phosphorous, potassium, vitamins, and other minerals.
Dry fruits are very readily available in the market. You can buy them from any fruit shop or any grocery store.
They are high in essential nutrients that can aid in the treatment of significant health problems such as cancer, diabetes, and thyroid disease.
Not everyone can consume milk or dairy products, and not everyone can consume meat. Dry fruits become a vital part of the diet at this point. They help you make up for the nutrients you're missing from the foods you can't eat.
That should be enough to convince you to include dry fruits in your diet.
So, let's get started with the list.
10 Calcium rich dry fruits
According to Healthline, adults should consume at least 1,000 mg of calcium per day. However, certain groups may require more, such as adolescents, postmenopausal women, and the elderly.
Almonds, dry figs, hazelnuts, pistachios, and walnuts are some of the best calcium-rich dry fruits out there to help you maintain a healthy and strong bone structure.
Almonds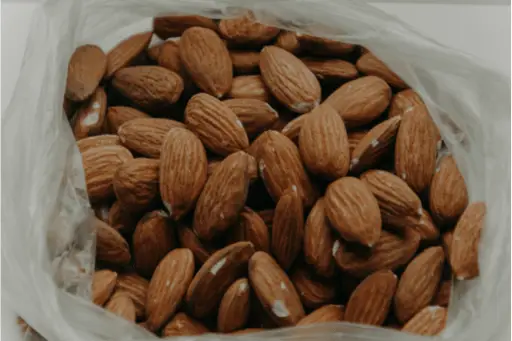 Calcium content: 260mg per 100 grams
When it comes to dry fruits, almonds are the king. Whether it's protein or calcium, almonds are among the highest of all nuts.
100 grams of almonds contain 260mg of calcium, about 26% of the daily recommended value. They also provide 13 grams of fiber and 21g of protein. In addition, they are a great source of healthy fats and are beneficial for your brain.
Almonds are among the second most consumed nuts in the world after peanuts. In the United States, it is grown primarily in California's central valley and northern coastal regions.
There are many varieties of almonds out there, and the good thing is all of them are nutritionally powerful.
Dry figs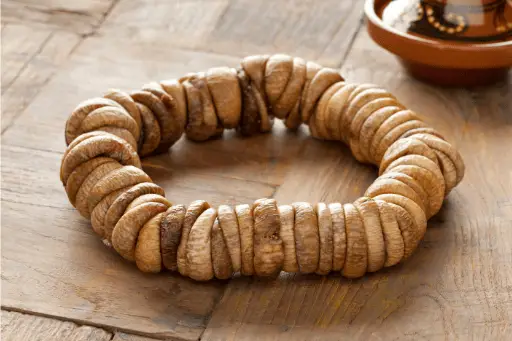 Calcium content: 162mg per 100 grams
Dry figs are a delicious and healthy snack that you should eat whenever you see them. They're a good source of fiber, with one serving (30 grams) containing 9.5 grams.
They're also high in calcium, with about 16 percent of your daily requirements, so they'll help you look after your bones.
Dry figs are also available in various varieties in the market, which are delicious and nutritious. You can eat them raw or add to the varieties of dishes.
Hazelnuts
Calcium content: 114mg per 100 grams
Hazelnuts, also known as filberts, are the edible oval-shaped seeds of hazel trees.
These are packed with many nutrients such as antioxidants, healthy fats, and other high concentrations of various vitamins and minerals. 
In addition, hazelnuts are a rich source of calcium, providing about 11% of your daily need.
Also read: Hazelnut vs Chestnut: Which Is The Most Nutritious Nut?
Pistachios
Calcium content: 105mg per 100 grams
Pistachios are among the popular and healthiest nuts in the world. 
They are commonly used as a snack and can be found in desserts, ice creams, and a variety of sweet dishes.
Pistachios are a good source of protein, with about 6 grams per serving, or about the same as one large egg.
It's also a good source of calcium, providing 10% of your daily calcium requirement.
Walnuts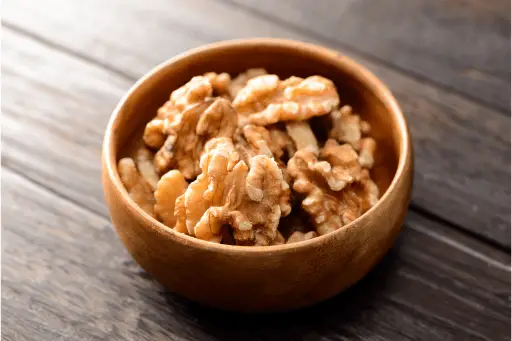 Calcium content: 98mg per 100 grams
Walnuts are widely regarded as brain food.
They are the most effective food for preventing brain degeneration and improving memory and cognitive abilities. This is due to walnuts' high content of omega-3 fatty acids, which are responsible for maintaining brain health over time.
They're also a good source of calcium, providing about 10% of the daily requirement. Furthermore, due to the high amount of alpha-linolenic acid in walnuts, some research suggests that they are beneficial to bone health.
Peanuts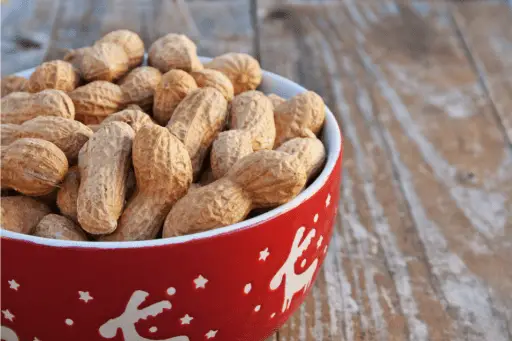 Calcium content: 92mg per 100 grams
Peanuts are a type of legume made from the Arachis hypogaea plant's seeds. They grow underground, hence sometimes also referred to as groundnuts.
They are a good source of protein, with 26 grams per 100 grams, the most of any dry fruit. Furthermore, they are high in calcium, providing about 9% of the daily requirement.
Peanuts can serve as an excellent source of nutrients for people watching their diet or who want to increase their regular intake of protein, calcium, and other nutrients.
Also read: Disadvantages of Peanuts: 6 Reasons to Limit Your Consumption
Zante currant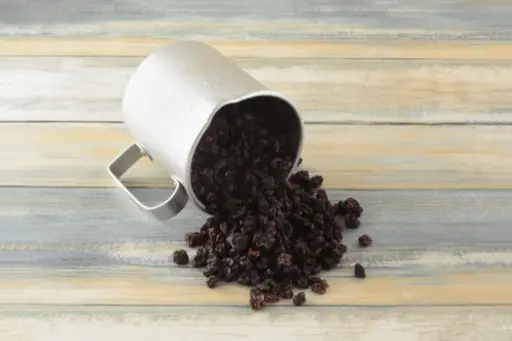 Calcium content: 86mg per 100 grams
Zante currants are a small and sweet variety of raisins.
These were first introduced in the late 1700s and are native to the Greek island of Zakynthos.
Zante currants are a delicious addition to your diet that also have anti-inflammatory properties, making them helpful in treating chronic inflammatory conditions like arthritis and asthma.
Aside from being delicious, they're also packed with vitamins and minerals. They contain no fat or cholesterol and are an excellent choice for keeping your bones healthy and strong, as they provide 9% of your daily calcium requirement.
Pecan nuts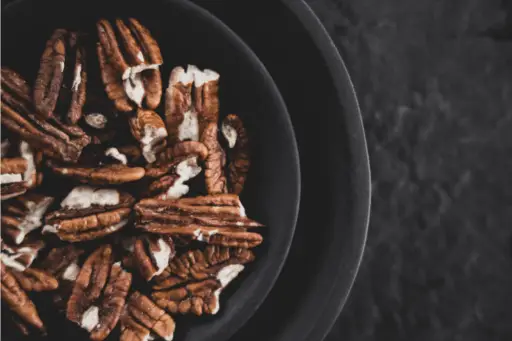 Calcium content: 70mg per 100 grams
The pecan is one of the most widely grown nuts in the United States. They are well known for their protein, fiber, and healthy fat content, but most people don't know pecans.
Pecans are edible seed that grows on a tree in the southern United States. They can be eaten raw or roasted, and they can also be used to make cooking oil and ice cream.
They're high in omega-3 fatty acids, antioxidants, magnesium, potassium, and calcium.
In a 100 gram serving, pecan nuts provide 7% of your daily calcium requirement.
Makhana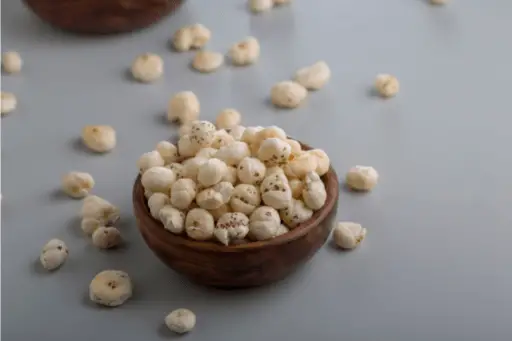 Calcium content: 60mg per 100 grams
Makhana (also known as fox nuts or Phool Makhana) is a small, oval-shaped snack made from the Euryale Ferox plant.
It has been used in Indian medicine for centuries to treat diabetes and obesity. Now it is used as a flavoring agent and as a food additive.
It is a rich source of fiber, protein, calcium(6% of daily value), and other micronutrients.
According to studies, regular consumption of makhana can help one lose weight, promote heart health, stabilize blood sugar levels, and promote bone health.
Also read: The Complete Guide to Makhana Nutrition, Side effects and Benefits
Dried apricots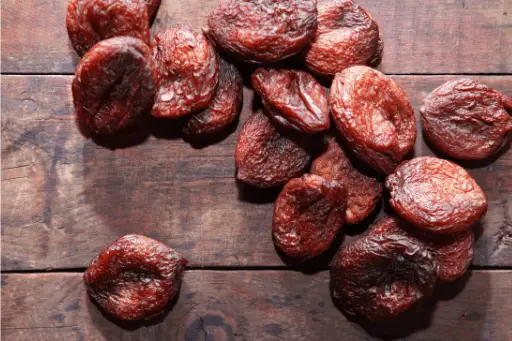 Calcium content: 55mg per 100 grams
While dried apricots may not be as sweet as fresh apricots, they are filled with many essential vitamins and minerals.
Apricots are high in beta-carotene, which your body converts to vitamin A, which helps your skin and eyes stay healthy.
They're also high in fiber and low in calories, which can help you lose weight if you include them in your diet.
Furthermore, they provide 5% of your daily calcium requirement in 100 grams, which can aid in the development of strong and healthy bones.
Also read: 8 Health Benefits of Dried Apricots That Will Surprise You
Final words
While calcium is essential in building and maintaining strong bones, you should also consume foods rich in vitamins D, magnesium, and potassium. These nutrients help your body absorb more calcium from food.
Furthermore, because dry fruits are high in calories, you should consume them in a moderate amount for best results.
Adding these calcium-rich dry fruits to your diet will help you get the calcium you need to strengthen and support your bones and teeth.
If you found this information helpful, do share it.
Other articles you might found useful