Walnuts or Akhroot are among one of the favourite nuts across the globe. This super healthy snack is good to be eaten raw or as part of a recipe. They contain a large amount of protein, healthy fats and antioxidants, and they also help lower bad cholesterol levels in your blood.
There are various types of walnuts available in India. Some are more popular than others due to taste, texture, health benefits, and cost. The walnuts from India are generally cheaper compared to the imported ones. This makes them quite popular among people who regularly add nuts to their diet.
In this post, I am going to share a list of 5 types of walnuts that you can easily find in India.
Also read: 6 Walnut Benefits For Hair That You Absolutely Need To Know
Why should you eat walnuts?
Walnuts are very healthy, and there is a lot of research to back up this claim. These nuts are high in omega-3 fatty acids and polyphenols, both of which have been shown to reduce the risk of heart disease.
They are also a good source of protein and carbohydrates, making them an ideal snack for kids and adults. Additionally, they are delicious, easy to store and transport, and less expensive than many other nuts.
Here are some reasons why you should consume walnuts every day.
A handful of walnuts can help lower cholesterol by providing a healthy dose of minerals, vitamins, and antioxidants.
Omega 3 fats in walnuts have been shown to help prevent blood clots from forming in the body, leading to a heart attack or stroke.
Walnuts may help reduce inflammation, which is beneficial to people with arthritis.
Walnuts are high in arginine, which relaxes blood vessels and improves blood flow.
Good source of fibre that may help prevent constipation and promote a healthy digestive system.
5 Types of walnuts in India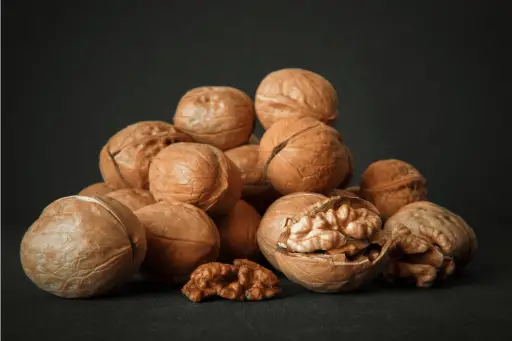 In India, walnuts are primarily grown in Arunachal Pradesh, Himachal Pradesh, Uttrakhand, Jammu, and Kashmir. Wilson, Kashmir budded, Placentia, Eureka and Lake English are popular walnut varieties in India.
Wilson
It is the most popular walnuts variety from Himachal Pradesh. These are delicious and of high quality.
Kashmir budded
Kashmiri walnuts are known for their high quality and mild flavour, with slightly tan coloured kernels. The state that produces the most of it is Himachal Pradesh.
People who enjoy a healthy and tasty snack will enjoy these.
These nuts are high in antioxidants, protein, fibre, iron, and vitamins, and they can help prevent heart attacks, lower blood cholesterol, and relieve constipation.
Placentia
These walnuts are grown in Himachal Pradesh.
Placentia walnuts are medium in size and have thin, well-sealed shells. These are light in colour, have plump kernels with a mild flavour, and are easy to grow.
These walnuts ripen around the end of September or the beginning of October.
Eureka
Eureka is a cultivar from Himachal Pradesh that bears fruit early to mid-season. The nuts are large, well-sealed light brown kernels of excellent quality. The light-coloured kernels are plump, easy to crack, and moderately plump.
The tree has a fast, vigorous growth rate and an upright habit, and it bears fruit at a much later age than the Placentia.
Furthermore, the nut can withstand reasonable handling during harvesting and processing without cracking open.
Lake english
The Lake english is a large tree widely grown for its edible properties. From early to late autumn, it produces large brown oval nuts with excellent quality in hard shells ready to harvest. The nuts have a sweet taste and an oily texture.
It's one of the hardiest varieties for the home orchard, and squirrels love it.
These nuts are most often used in fresh eating and baking.
Common Walnut and Persian Walnut are two other names for this walnut variety.
Final words
Walnuts are known to be a great source of nutrients and minerals. They are considered one of the healthiest nuts you can eat, and they're widely available in India. They can be eaten as snacks or as part of the main meal. 
If you're looking for healthier ways to add more walnuts to your diet, you should consider some of these five types of walnuts that I have mentioned above.
Are there any other types of walnuts that you'd like to try? Let us know in the comments!