Makhana, also known as fox nut or lotus nut, is a favorite winter snack in India. Most people enjoy it as a snack or use it in a variety of recipes. It is full of nutrients such as fiber that help you feel full, prevent constipation, enable you to control blood sugar levels, support weight loss, and promote heart health.
However, this yummy, crunchy, and delicious nut is good for more than just making you feel full and reducing your sweet cravings. Makhana is a great source of antioxidants and other nutrients that can benefit your skin in numerous ways.
Here are the 6 incredible benefits that makhana has for your skin.
Also read:The Complete Guide to Makhana Nutrition, Side effects and Benefits
5 Benefits of Makhana for Skin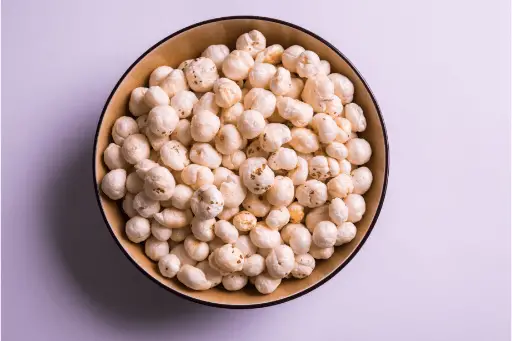 Prevents premature aging
Premature aging is a natural process of degradation in the skin. It is caused by continuous exposure to damaging factors like sun, pollution, stress, etc. Although you can't stop premature aging but you can delay it by adding makhana to your diet.
Makhana is a great source of antioxidants, such as gallic, chlorogenic, and epicatechin, which help to protect your skin from the signs of premature aging, including wrinkles and age spots.
Include a handful of makhana in your daily diet and see how your skin starts to glow in no time.
Prevents inflammation
According to studies, chronic inflammation is at the root of many mental and physical illnesses. It has also been linked to skin health problems such as acne, eczema, psoriasis, and rosacea.
However, there are several steps that you can take to reduce inflammation and improve your skin health.
Makhana is anti-inflammatory and can help you to reduce inflammation in the body. According to studies, it contains kaempferol, which has been shown to suppress the production of inflammatory cytokines and chemokines in both human cells and mice. 
Additionally, It also helps to protect the skin from UV radiation and promotes wound healing. 
Protect from skin cancer
Studies have shown that too much exposure to ultraviolet rays is one of the most common reasons for skin cancer.
However, many studies have also shown that eating the right foods can help you beat skin cancer.
According to studies, makhana is a good source of Epicatechin, a flavanol that helps protect the skin from Ultraviolet radiation and other environmental toxins. It also helps improve the appearance of wrinkles and skin elasticity.
Moreover, this flavonol is also linked to a number of other health benefits, such as reduced inflammation and better blood sugar control.
Prevents acne
Acne is a skin condition that affects many people. It is characterized by blackheads, whiteheads, pimples and can occur on the face, neck, chest, back, shoulders, and upper arms.
Apart from antioxidants, makhana is a rich source of nutrients like Omega 3 fatty acids and Zinc, which help your skin by preventing acne.
Boost your skin glow 
According to studies, makhana is a good source of gallic acid, which exhibits powerful antioxidant, anti-inflammatory, antimicrobial, and anti-cancer properties.
Due to these beneficial properties, GA and its derivatives have been widely used in skin conditions (hyperpigmentation, wound healing) and as a cosmetic ingredient.
Furthermore, gallic acids present in makhana have in studies have shown to brighten the skin and provide photo-protection.
How to use makhana for skin?
There are two ways to use makhana to improve the health of your skin. You can either eat or apply it to your skin as a paste, or you can do both.
There are two ways to improve the health of your skin with makhana: you can either eat it or apply it as a paste, or you can do both.
Add to your diet
You can consume a handful of makhana as a snack.
Add makhana to your breakfast cereals and with trail mixes
You can add makhana to sweet dishes to make them more nutritious and enhance their flavour.
Makhana cream for brighter skin
Important note: This homemade makhana cream is completely natural and effective in lightening your skin's complexion. It contains all-natural ingredients beneficial to your skin, such as vitamin E and aloe vera.
Using this cream three times per week will help improve your skin tone, treat dry skin, and remove dark spots and acne.
For best results, apply this cream before going to bed and wash it off in the morning. Also, You can store this cream in a container and use it for upto 10-12 days.
Ingredients require
10 to 15 makhana
Two tablespoons vitamin E oil
One tablespoon rice flour or cornflour
One tablespoon aloe vera gel
Steps to follow
Soak 10-15 makhana in hot water for 10-15 minutes in a bowl.
Now blend the makhana in a jar to make a fine paste.
Sieve the paste with a filter or a cotton swab to obtain a very fine Makhana paste.
Add in 2 teaspoons of vitamin E oil and 1 teaspoon of glycerin. Mix it well.
Add 1/2 tsp rice flour. In case you don't have rice flour, use cornflour.
Mix in 1 teaspoon of Aloe vera gel in it.
Voila, your 100% natural makhana cream is ready.
Final words
In a nutshell, if you want to improve your skin naturally, look no further than makhana. This wonder food has numerous skin benefits, including preventing premature aging, increasing skin glow, reducing wrinkles, and even improving skin tone.
Include it in your diet and see the amazing results for yourself!
Thanks for reading!
Here are some other articles that may help you look more beautiful:
Frequently asked questions (FAQs)
Are there any side effects to apply makhana on your skin?
However, there are no any significant side effects of makhana but eating it in high amount may lead to allergic reaction, constipation, bloating, and nausea.
Can we eat Makhana everyday?
Yes, it is safe to eat makhana everyday in your diet. Eating makhana in limited amount on daily basis will help in controlling blood sugar levels, promoting heart health and supporting weight loss.
Is makhana good for hair?
Makhana is good for your hair as it high in antioxidants which can help in increasing elasticity and preventing premature graying of the hair.
Can you apply Makhana on face?
Yes, it safe to apply makhana on your face. However if you find any side effects stop applying it or consult you doctor.