Black carrots are not as popular as their orange counterparts, but this doesn't mean they aren't just as beneficial. In fact, they're nutrient-dense root vegetables that are low in calories and high in fiber and vitamins.
They are also rich in antioxidants, including anthocyanins – the pigment that gives them their dark hue. These antioxidants are believed to offer a range of health benefits, from reducing your risk of heart disease and cancer to improving your vision.
If you are looking to add black carrots to your diet and wondering what benefits they will have on your health, you are at the right place.
A little about black carrots
Black carrots are most commonly eaten in Asian countries such as Afghanistan, Turkey, Pakistan, and India. These are not entirely black in color but a blend of dark purple.
Black carrots are perishable and difficult to store. As a result, They are often processed into various products such as juice or fermented beverage(Kanji). They are also eaten as a salad or converted into a pickle.
Black carrots are a good source of :
Fiber
Potassium
Beta-carotene
Vitamin B and C
Polyphenols
Anthocyanin
Due to their high nutritional value and positive effects on human health, many other countries have started cultivating black carrots.
8 Benefits of eating black carrots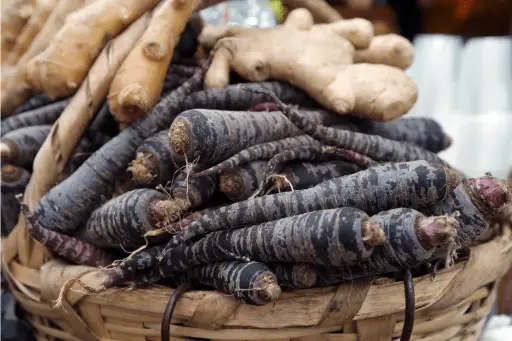 It has anti-inflammatory properties
Black carrots fall into the category of anti-inflammatory foods.
Anti-inflammatory foods help reduce inflammation or swelling throughout the body, which might, in turn, help improve overall health and well-being.
These foods also help to reduce the risk of developing chronic diseases such as heart disease, cancer, and arthritis.
Boost your immunity
Black carrots are a good source of carotenoids (especially beta-carotene), which play an important role in maintaining the normal function of the immune system.
This carotenoid also protects your DNA, proteins, and lipids from oxidative damage.
As per studies, when digested purple or black carrot extract is passed through the colon cells, it decreases oxidative DNA damage by 20.7%. This protects the cells against reactive oxygen species stress and keeps your immune system working properly.
Improve digestion
Black carrots are a good source of dietary fiber.
This high fiber content in black carrots helps to improve your digestion and keep the digestive system functioning properly. It also helps regulate the digestive process, leading to better absorption of nutrients from food.
Additionally, fiber helps to keep you full for longer and can also help lower blood cholesterol and stabilize blood sugar levels.
Good for your heart health
Anthocyanins not only give carrots their deep color, but they are also responsible for heart health.
According to studies, eating foods rich in anthocyanins exhibit various beneficial health effects on your heart, such as a decrease in stroke risk and a reduction in the risk of coronary heart disease.
In addition, black carrots are good in potassium, which helps manage blood pressure.
It may prevent cancer
Cancer is among the leading cause of death worldwide. Almost 10 million people die from cancer each year.
Studies suggest that the anthocyanins present in black carrots may play a crucial role in preventing cancer among people.
The study found that black carrots contain anthocyanins that help protect against different types of cancer, such as breast, prostate, and colon. The ethanol extract of black carrot anthocyanins effectively treated cancer and had antioxidant and anti-proliferative properties against different cancer cell lines.
Good for people with diabetes
After cancer, diabetes is another big health problem worldwide. It is estimated that about 30 million people have diabetes.
Studies suggest that including foods like black carrots in your regular diet can be effective against type2 diabetes. The phenolic compounds present in black carrots are responsible for this property.
Furthermore, black carrots are low in glycemic index and high in fiber, which helps to manage your blood sugar levels.
Lower your risk of weight gain
If you are on a weight loss or looking for foods to help you lose weight, black carrots are perfect.
Eating black carrots possesses anti-obesity properties on your body that helps to prevent the risk of obesity.
Furthermore, black carrots are low in calories and high in fiber, which helps to keep you full for a more extended time and prevents you from eating unnecessary between meals.
Improve your vision
Research suggests that regularly eating black carrots can help you improve your vision. It may also help protect your eyes from UV damage, cataract, and glaucoma. All thanks to anthocyanin.
Anthocyanin is also widely used as a supplement for eye health in Europe and East Asia.
Final words
Though all types of carrots are healthy to eat, black or purple color carrots are high in antioxidants, especially anthocyanins.
The antioxidants properties of black carrots make them a must to include in your diet.
So the next time you go grocery shopping, try to add these exotic black carrots to your basket and enjoy their unique taste and health benefits.
Here are a few other posts that may help you get more healthy: