Rice is an important food staple in India. In fact, we Indians eat rice every day. A meal isn't complete unless it includes a bowl of hot boiled rice. It has always been a part of our lives and will continue for many years to come. We have all grown up eating various types of rice, However there are many more varieties that many people are unaware of.
In this post, I will be sharing the list of 16 of the most common types of rice that you can find in India.
Also read: 10 Types of Millets You Must Not Miss Out
16 Different Varieties of Rice
1. Aizon rice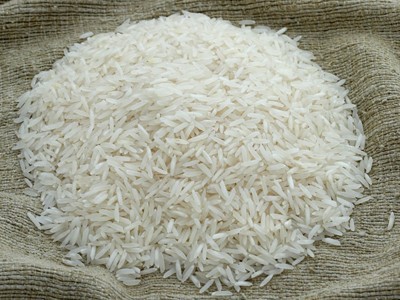 Type: Medium-grain
Aizon rice is a variety of rice that originated from the rainfed areas of Assam. It is mainly cultivated and consumed by the people of Assam.
The rice is known for its distinct flavour and aroma. The grains are medium in size and slender in appearance. It also serves as a good source of nutrition for the people of Assam.
2. Basmati rice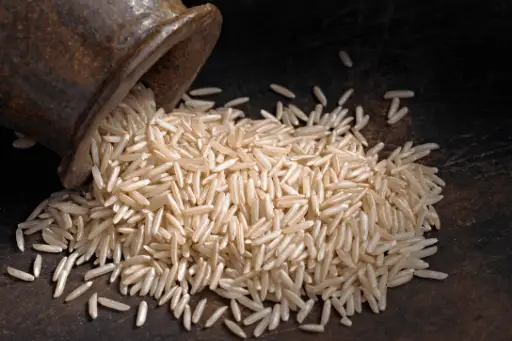 Type: Long-grain
Basmati Rice is a long, slender-grained aromatic rice traditionally grown in India, Nepal, and Pakistan.
It is one of the oldest and most well-known rice varieties in India because of its delicious flavour and the fact that it cooks up softer than other types of rice.
The rice is perfect for pilafs and biryanis, but it's also delicious on its own.
Furthermore, basmati rice has a low glycemic index, making it suitable for people with diabetes.
Make a pot of basmati rice tonight for your family and see how much they enjoy it!
3. Jasmine rice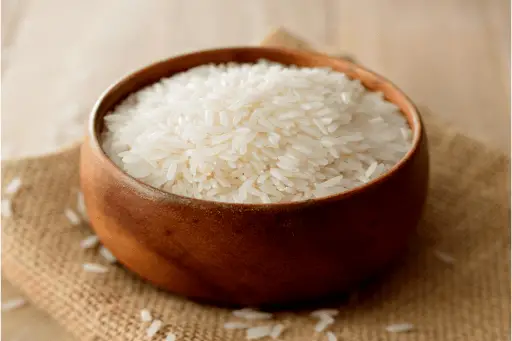 Type: Long-grain
Jasmine rice, also known as Thai fragrant rice, is an aromatic variety of long-grained rice. It is one of the most popular and frequently served rice in Thailand.
Jasmine rice has a high glycemic index of 68-80, making it unsuitable for people with diabetes. However, the rice is rarely eaten alone, it is typically consumed with other foods, which reduces the glycemic index of rice by 20 to 40%.
When cooked, it has a moist and soft texture with a slightly sweet flavour and pairs well with stir fries, grilled, fried, or braised foods, and soups.
4. Brown rice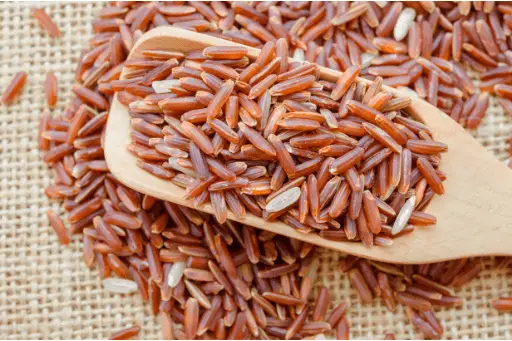 Type: Long-grain
Brown rice is whole grain rice that has not been processed and is still in its natural state. The husk is removed from brown rice, making it less white than white rice but still contains the bran layer and germ, making it more nutritious.
It's high in fibre and a good source of magnesium, phosphorus, selenium, thiamine, vitamin B6, and manganese. It aids in the control of diabetes and reduce cholesterol levels in the body, making it a healthier alternative to white rice.
It takes longer to cook than white rice, with an estimated cooking time of 30 to 50 minutes.
5. Kamini rice
Type: Medium-grain
Kamini rice is the most popular milled variety of rice for cooking in South India. It's a medium-grain variety with a hard texture when cooked.
This rice has recently gained popularity due to its distinct flavour, texture, and aroma. Kamini rice has become a household name in South India.
The slightly toasted, nutty flavour complements Bengali khichuri and Pulao. The rice has a pleasant taste and cooks quickly without becoming mushy.
6. White rice
Type: Long-grain
White rice is the most common variety of rice for many people in India. It's an affordable source of carbohydrates and can be consumed at almost every meal.
It's made by removing the bran layer and germ, mainly leaving starchy endosperm. This process causes the depletion of nutrients from the rice grains.
Unlike brown rice, white rice is low in fibre, protein, and fat. It can be served hot or cold and eaten alone or as part of a dish.
Although white rice is easy to digest, it has a high glycemic index of 72, so it should be consumed with care.
7. Mogra rice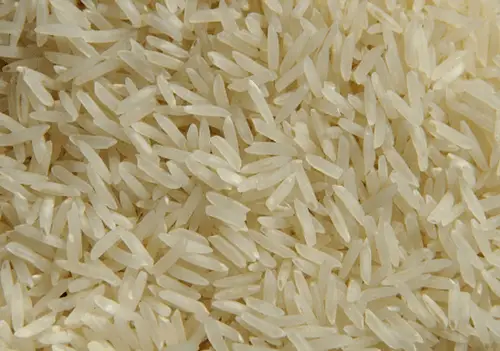 Type: Long-grain
Mogra rice is a fine, rare Indian long-grained rice grown in the Punjab and Haryana regions.
This rice is ideal for pulao with its non-sticky, pearly, and lustrous grains.
Also, it contains more starch than other types of rice. This gives an excellent texture for making different types of popular rice dishes such as paaya, sadha, bhaat and kheer.
8. Black rice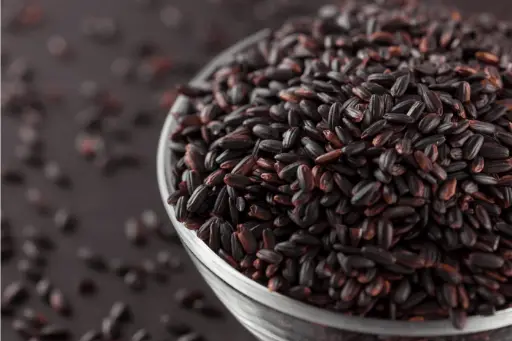 Type: Medium-grain
Black rice is a type of rice that comes from the same species like white and brown rice. However, it's still different in its composition because it has a different colour, taste, and additional health benefits.
In terms of nutrition, black rice contains more anthocyanins than other types of rice. Anthocyanins are naturally occurring antioxidant compounds that have been shown to reduce inflammation and the risk of certain diseases.
Black rice has a deep black colour, and when cooked, it usually turns a deep purple colour. It can be used to make porridge, dessert, traditional Chinese black rice cake, bread, and noodles.
Anti-cancer properties, eye health benefits, and the fact that black rice is naturally gluten-free are just a few of the advantages of black rice.
9. Red rice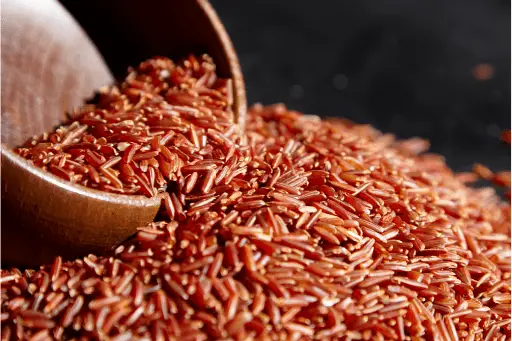 Type: Long-grain
Red rice, also known as Matta rice, is most commonly consumed in Kerala. It contains more antioxidants than brown rice and has a higher nutritional value than white rice.
Its husk is red rather than brown, and it is usually eaten unhulled or partially hulled.
Besides antioxidants, it is also a rich source of iron, magnesium, calcium and zinc.
Red rice has a low glycemic index, making it suitable for diabetic patients to control their blood sugar levels.
10. Joha rice
Type: Small-grain
Joha is a rice variety grown in India, with Assam being the largest cultivator. It has a distinctive aroma as well as a delicate and delicious flavour.
Tulsi Joha, Kola Joha, Kunkuni, and Manki Joha are some of the traditional types of joha rice available in Assam.
The rice is ideal for making fragrant pulao and delightful desserts like kheer or rice pudding.
It is high in antioxidants, which aid in the prevention of ageing and a variety of diseases.
11. Indrayani rice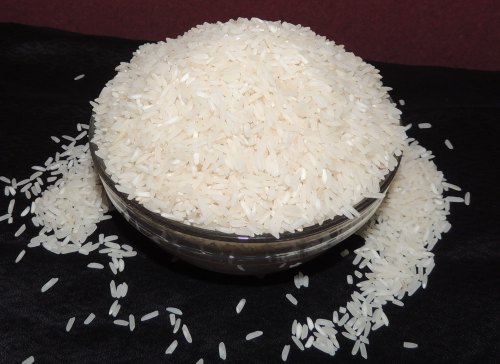 Type: Medium-grain
The Indrayani rice is another one of the most popular rice varieties in India. It is primarily grown in Maharashtra's western region and some areas of Nashik.
It is a medium-sized grain derived from Ambemohar rice and has a pleasant aromatic sweet aroma.
Indrayani is high in fibre and antioxidants, and it benefits the body's overall health.
Because Indrayani rice becomes very sticky while cooking, you may want to use a little less water. Also, to control stickiness you can cook the rice in an open pot rather than a cooker.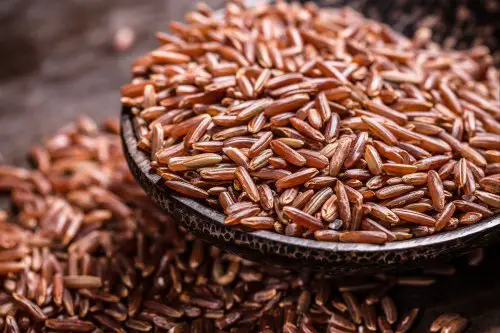 Type: Medium-grain
Navara is medium-grain red rice grown for nearly two centuries in Kerala's Palghat region.
It has a distinct flavour that sets it apart from other types of red rice. It's also very nutritious, with a deep red colour due to the high antioxidant and iron content.
Navara rice is an integral part of the Ayurvedic treatment system. It is used alone or in combination with other herbs to treat a variety of diseases.
It's an excellent weaning food for babies, especially those who are underweight. It has antiseptic properties and aids in healing internal wounds when cooked with milk and herbs.
This rice is usually planted in November and harvested between 135 and 150 days later.
13. Ponni rice
Type: Medium-grain
Ponni rice is a medium-grain rice grown in India's southern states of Tamil Nadu and Karnataka.
The rice is named after the Kaveri River, also known as 'Ponni' in Tamil literature. It is primarily used to make rice, noodles, desserts, and sweets.
It's high in calories, easy to digest, and diabetic-friendly in some varieties.
14. Rosematta rice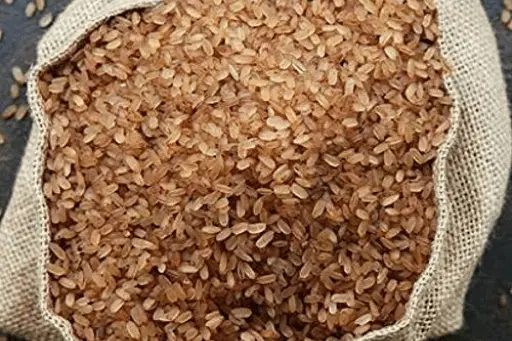 Type: Small-grain
Rosematta rice is an indigenous rice variety grown in the Palakkad district of Kerala, India.
The rosematta rice has long been popular due to its rich and distinct flavour. It was chosen by the Chola and Chera dynasties of India's royal families. This variety was not available to the common people of the society as it was considered very expensive.
Overall, it's a nutrient-dense, gluten-free, carbohydrate-free, and healthy rice option.
You can eat it plain or use it to make idlis, appams, and snacks like murukku and kondattam.
15. Bomba rice
Type: Small-grain
Bomba rice is a Spanish short-grain rice variety derived from an Indian variety. It is known for its nonstick properties because of its high amylose content.
Cooking bomba rice requires more water as it absorbs two or three times its volume in water without bursting.
The bomba rice is expensive than other rice varieties due to the extra care required in cultivation and the length of time it takes to mature.
16. Sona masoori rice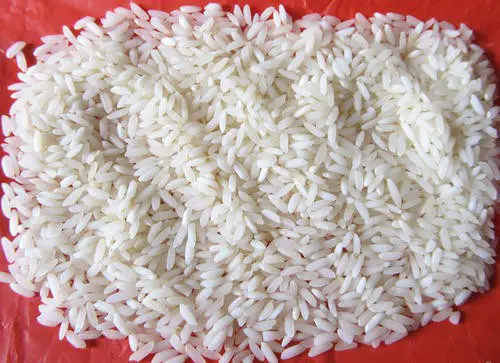 Type: Medium to long-grain
Sona Masuri is a light and aromatic medium-grain rice that is the result of a cross between Sona and Mahsuri rice varieties.
It is grown primarily in the Indian states of Andhra Pradesh, Telangana, and Karnataka, and is primarily used in South Indian cuisine.
The rice is unpolished, making it a healthier option in terms of nutrients than polished rice. It contains less starch and calories, making it ideal for losing weight.
However, because it has a high glycemic index of 72, it should be consumed with care.
Final words
There are many different types of rice available in India, and it's important to be familiar with them so you can choose the right one for your recipe.
I hope you found this article useful. If you know of any other types of rice that I didn't mention and are available around your local store, please let me know in the comments section.
Meanwhile, you can express your love by sharing this article to the rice fans.
Other articles you might find useful: