Bournvita and Boost are two of the most popular health drinks you can find on the market.
Both claim to provide the essential nutrients your child needs for a healthy start in life.
Bournvita claims that it contains nutrients that support your child's immune system, strong bones, strong muscles, and an active brain. On the other hand, Boost claims it has nutrients that help to build stamina, stronger bones, and strength.
However, when compared, which is the better option for your child?
If you are looking for the ideal health drink for your child and are confused between Bournvita vs. Boost, no need to worry.
In this post, I've put together a detailed comparison of Bournvita and Boost based on ingredients, nutrition, and benefits that will help you choose a better option for your child.
So let's begin.
Also read: Bournvita Vs Horlicks: Which One Is The Better Health Drink?
Bournvita vs Boost: Ingredients comparison
Bournvita and Boost are cereal or malt-based health drinks that use similar ingredients to other health drinks available on the market.
These ingredients include cereal or malt extract, sugar, milk solids, cocoa, natural colour(150c), and artificial flavour.
However, some ingredients are unique to each drink. For example, Bournvita uses liquid glucose, maltodextrin, emulsifiers, and raising agent, whereas Boost uses millet extract, wheat flour (atta), soya protein isolate, and acidity regulators.
If you had asked me to choose one drink in terms of its ingredients, my answer would be Boost. There are mainly two reasons for this.
First, Boost has additional good ingredients such as millet, wheat flour, and soy protein isolate. Secondly, Boost does not use ingredients like maltodextrin and ethyl vanillin, which might pose health risks in children.
So overall, in terms of ingredients, I found Boost to be more balanced, better, and less risky.
Bournvita vs Boost : Flavours
Bournvita comes in the following flavours:
Regular
Lil champs (for kids age from 2 to 5 years)
5 Star magic (with caramel)
Women
On the other hand, Boost only comes in one flavour.
Bournvita vs Boost: Nutritional comparison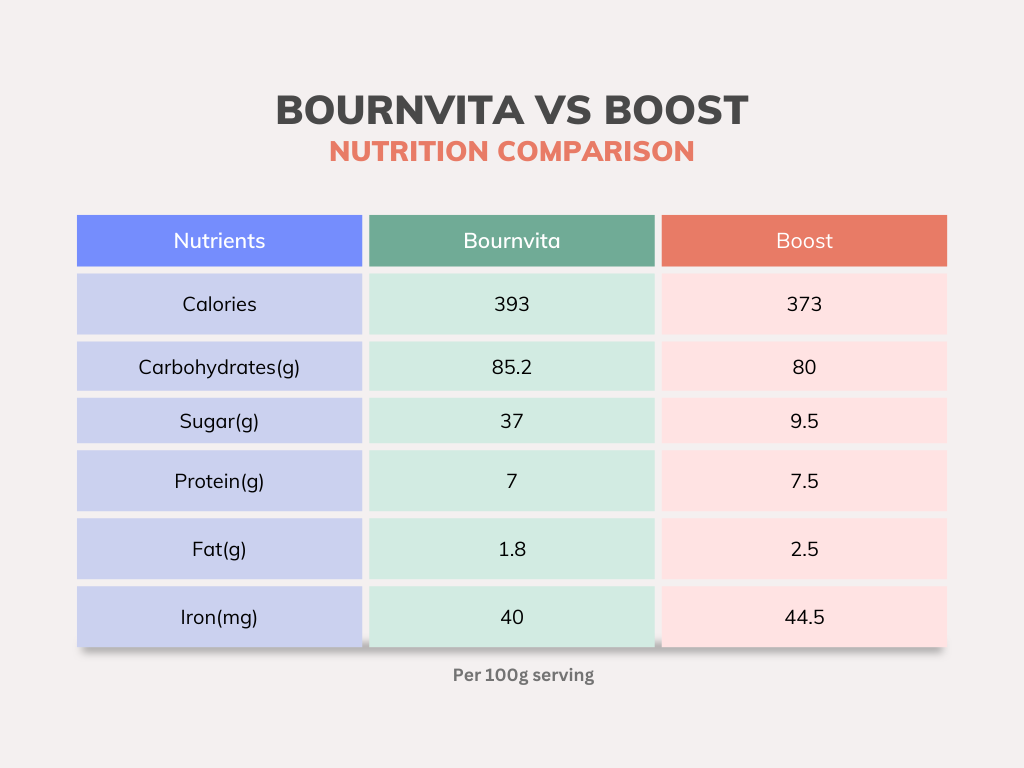 Protein
Adding protein to your child's diet helps them become stronger, build muscles, and boost their immune system.
When it comes to protein, both Bournvita and Boost provide almost the same amount.
A single serving of Bournvita (20g) provides 1.4g of protein, while Boost provides 1.5g.
Additionally, both health drinks recommend two servings per day, which totals 2.8g of protein from Bournvita and 3g from Boost.
While both drinks contain protein, the levels are quite low compared to other health drinks in this range, such as Horlicks, complan, and pediasure.
Calories
When it comes to calories, there is not a significant difference between both health drinks.
A single serving of Bournvita provides 79 calories, while Boost gives 73 calories.
However, of the 79 calories in Bournvita, around 30 calories come from sugar. In contrast, of the 73 calories in Boost, only 8 come from sugar.
For those who don't know, 1g of sugar has 4 calories.
Foods with a large percentage of calories from sugar are generally considered detrimental to health.
Therefore, Boost is better in terms of the quality of calories.
Carbohydrates and fats
When it comes to carbohydrates and fats, both Bournvita and Boost almost contain the same amount.
A single serving of Bournvita has 16g of carbs and 0.4g of fat, whereas Boost has 17g of carbs and 0.5g of fat.
This is good if your child is overweight and you are looking for health drinks to help manage weight.
Sugar
When it comes to sugar, there is quite a big difference between both health drinks.
Bournvita provides 7.4g of sugar per serving, equivalent to almost two teaspoons. This is the most sugar per serving by any health drink on the market.
Additionally, if you give your child two servings of Bournvita a day, your child will get 14.8 of sugar only from Bournvita, which exhausts about 70% of the sugar limit for children aged 4 to 10 in a day.
On the other hand, Boost comes with 1.9g of added sugar per serving which is good and very low compared to Bournvita.
Vitamins and minerals
Bournvita and Boost are fortified with many essential vitamins and minerals for your child's good health.
However, Boost is slightly better in terms of overall nutrients than Bournvita.
Boost has better levels of vitamins like C, B1, B2, B3, B6, B9, and B12 and minerals like calcium, magnesium, iodine, iron, and copper.
Bournvita has better levels of vitamins A and D and minerals like phosphorus, sodium, and selenium.
However, if you choose other flavours of Bournvita, such as Cadbury 5 star or little champs, they come with additional nutrients such as DHA, vitamin E and K, choline, manganese, and potassium. However, high sugar levels are concerning with these flavours.
So if you want a more balanced health drink with high levels of nutrients with fewer calories and sugar, Boost is the ideal choice.
Also read: Nangrow vs. Pediasure: Which One Is Right For Your Child?
Bournvita vs Boost: Benefits comparison
For strong muscles
Bournvita alleges that it contains nutrients that can help your child develop stronger muscles. However, when we look at the protein content, it is very low. Boost also provides almost the same amount of protein.
As a result, neither Bournvita nor Boost are good for muscle building.
If protein is important to you in your child's drink, then there are many other better alternatives, such as Horlicks or Pediasure.
For immune system
Both health drinks contain many immune nutrients, such as vitamin C, zinc, and iron. But the level of these nutrients are slightly better on the Boost.
However, Bournvita comes with additional immune nutrient selenium, which plays an important role in boosting the immune system. At the same time, this nutrient is missing in Boost.
If you ask me, Bournvita is well balanced in terms of immune nutrients.
For stronger bones
Calcium, vitamin D, and magnesium are three of the most important nutrients that one needs for stronger and healthy bones.
While Bournvita claims that it helps to strengthen bones, it lacks calcium and magnesium and only contains vitamin D.
Whereas, Boost comes with all three nutrients making it a better choice for stronger bones.
For healthy brain
An ideal health drink not only helps your child get stronger from the outside but also from the inside.
Both the health drinks contain plenty of brain-boosting nutrients such as Iodine, magnesium, thiamine(B1), folic acid(B9), and cobalamin(B12).
However, the levels of these nutrients are higher on Boost, making it a better choice for your child's brain health.
Bournvita vs Boost: Price difference
Bournvita is available in 7 sizes 75g, 200g, 400g, 500g, 750g, 1kg and 2kg. At the same time, Boost is available in 4 sizes 200g, 450g, 500g, and 1kg.
If we compare prices, Bournvita appears to be more price friendly.
The 500g box of Bournvita on amazon costs around 203 Rs(excluding shipping), while the same amount of Boost box costs 279 Rs, which is a significant difference.
It is important to keep in mind that the prices of both nutrition drinks fluctuate. But if you purchase any time, Bournvita will always be lower-priced than Boost.
Final words: Which is the better option for your child?
Bournvita may have a better market share than Boost, but Boost is a better option for your overall child's health. 
And there are many reasons for this, such as:
Boost has high levels of B vitamins
Boost is better for your child's bone health
Boost has better levels of brain-boosting nutrients for your child
Boost has less sugar than Bournvita
Boost has high levels of minerals than Bournvita
Boost has better and less risky ingredients
Whatever health drink you choose, ensure your child eats a regular diet filled with fruits and vegetables. Don't make any of the health drinks your child's only source of nutrition.
Found this information about Bournvita vs Boost helpful? Don't forget to share it.
Meanwhile here are a few other posts that might be helpful for you: