Mamra and California are the two most popular almond varieties among people. They're both high in vitamins and minerals, and many people enjoy their taste.
While they can be used interchangeably in various recipes, you might be wondering which is the better and healthier option.
In this post, I've compared both varieties of almonds, including their nutritional and health benefits, to see which one is better.
What is mamra almond?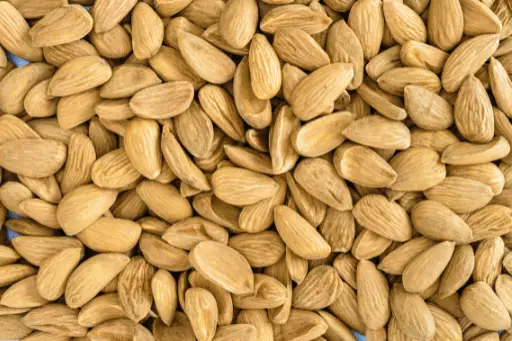 Mamra almond is the most expensive almond variety in the world. It is primarily grown in Iran's Chaharmahal and Bakhtiari regions and in some parts of Afghanistan and India. It has a sweet flavour and a distinct cervical shape with a bright outer layer.
Mamra almond is grown without the use of chemicals and is typically available in a near-natural state. It contain more oil than any other almond variety.
It is popular not only in India but also in several other countries due to it's high protein and fiber content.
Mamra almond accounts for about 5% of total global almond production and is regarded as the world's premium variety of almonds. As a result, Mamra Badams is extremely expensive, costing up to three times as much as regular almond varieties.
You can easily obtain them from your local grocery store or online retailers.
What is california almond?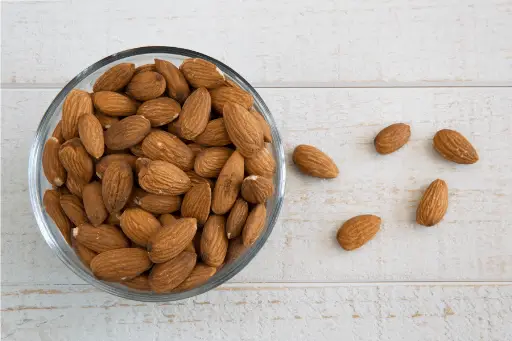 California almond is the most widely available and least expensive almond variety. It is primarily grown in the USA and account for more than 80% of all almonds produced worldwide.
It is known for it's smooth texture and large size, and the ease with which it can be blanched.
To increase the sweetness of California almonds, they are chemically processed and then heated to extreme temperatures. Because of the high heat processing, the healthy oil content of California almonds is reduced.
In India, california almonds are widely used in desserts such as kheer, halwa, meethi chawal, and sweets, and many people also eat them raw.
They're also high in fiber, protein, and other minerals and easy to find in any grocery or online store.
Mamra vs california almonds: Nutritional comparison
Although, both Mamra and California almonds have nearly similar nutritional values, a closer look may reveal which is more nutritious for you.
Here's a comparison of a 100 grams serving of each:
| Nutrients | Mamra | California |
| --- | --- | --- |
| Calories | 609 | 570 |
| Protein | 19g | 21g |
| Fiber | 13g | 14.3g |
| Carbohydrates | 16g | 21.4g |
| Fat | 58.4 | 50g |
| Sugar | 2.2g | 3.6g |
Calories
A calorie is a unit of measurement for the amount of energy our bodies absorb during digestion. Even though both Mamra and California almonds are high in calories, mamra has 39 more calories per 100 grams serving.
Protein
No matter which almond variety you choose, it will undoubtedly contain high protein levels. Both mamra and california almonds contain protein, with California almonds being slightly higher.
Fiber
Eating enough fiber in your diet can prevent many health problems, including diabetes and heart disease. Both mamra and California almonds are high-fiber foods, providing more than half of the daily fiber requirement.
However, California almonds have 1 gram more fiber per 100 grams serving than mamra.
Carbohydrates
Carbohydrates are essential for our bodies because they help us stay energized, alert, and healthy. When it comes to carbohydrates, both mamra and california almonds have them, with california almonds having 5 grams more per 100 grams.
Also, compared to california, mamra almonds have higher sugar and natural oil content.
Mamra vs california almonds: Benefits comparison
Weight loss
Indeed, eating almonds in moderation regularly can help you lose weight.
Both mamra and California almonds are high in fiber and protein, so they are ideal to include into any weight-loss plan.
However, for better results, include california almonds in low-calorie and low-fat diets and mamra almonds in a low-carb diet.
Also read: 9 Best Dry Fruits for Weight Loss that Actually Works
Heart health
Studies have shown that almonds can help keep your heart healthy.
Both mamra and California almonds are high in essential nutrients and heart-healthy fats, which can aid in the prevention of heart disease.
A daily serving of almonds of any variety can help prevent cardiovascular disease in the short and long terms.
Diabetes
For people with diabetes, both mamra and california almond varieties are among the healthiest nuts. However, both are high in calories and should be consumed in moderation.
Additionally, both mamra and California almonds have a low glycemic index, making them a good choice for people with diabetes.
Cholesterol
California and Mamra are both excellent sources of oil. However, mamra, among other almond varieties, contains up to 50% oil, whereas a typical California almond contains only 25–30% oil.
Furthermore, due to high natural oil content, mamra almonds are more elevated in phytosterols and monusaturated fats, making them a better choice for lowering bad cholesterol levels in the body.
Final words: Which one is better?
Both mamra and california almonds offer numerous health benefits for your health. However, when looking for an optimal winner in terms of health benefits, mamra may be the best choice. On the other hand, california almonds may be the best choice nutritionally due to their high protein and fiber content.
In conclusion, california almonds are a nutritionally powerful and less expensive alternative to other almond varieties. At the same time, people with high cholesterol levels should choose mamra almonds, which are a more expensive and fully organic variety of almonds.
If you found this information helpful, do spread it to the world.