Sunchips are popular chips that Frito-Lay made in 1991. The same company has given us plenty of other snacks, like Lays, Doritos, Cheetos, and Fritos.
The rippled texture and unique taste of these snacks have earned them a following among people. From Sour Cream and Onion to Garden Salsa and Harvest Cheddar, Sunchips are available in various flavors to satisfy every taste bud.
However, one question that comes to many minds is whether Sunchips are healthy or not.
Short answer: While Sunchips are preservative free and better than regular potato chips, they are not entirely healthy for you. From being high in sodium and calories to being made from genetically modified corn, they are many reasons that make Sunchips bad for your health.
I have listed 5 reasons below that make Sunchips not so healthy for you.
But before that, let's look at the ingredients in Sunchips.
Also read: Are Pringles Healthy? The Truth About This Popular Chips
What are Sunchips made of?
The Sunchips are corn-based chips fried in sunflower or canola oil. Some healthy ingredients include whole wheat, brown rice flour, whole oat flour, whey, onion and garlic powder, and paprika extracts.
The rest of the ingredients are used to make or improve the flavor of Sunchips. These include Sugar, Maltodextrin, Dextrose, Salt, Natural Flavor, Yeast extract, Lactose, Sodium caseinate, Citric and lactic acid, and Skim milk.
I won't go into detail about these ingredients as it would make this post long.
So let's get to the main section of this post.
5 Reasons Sunchips aren't healthy for you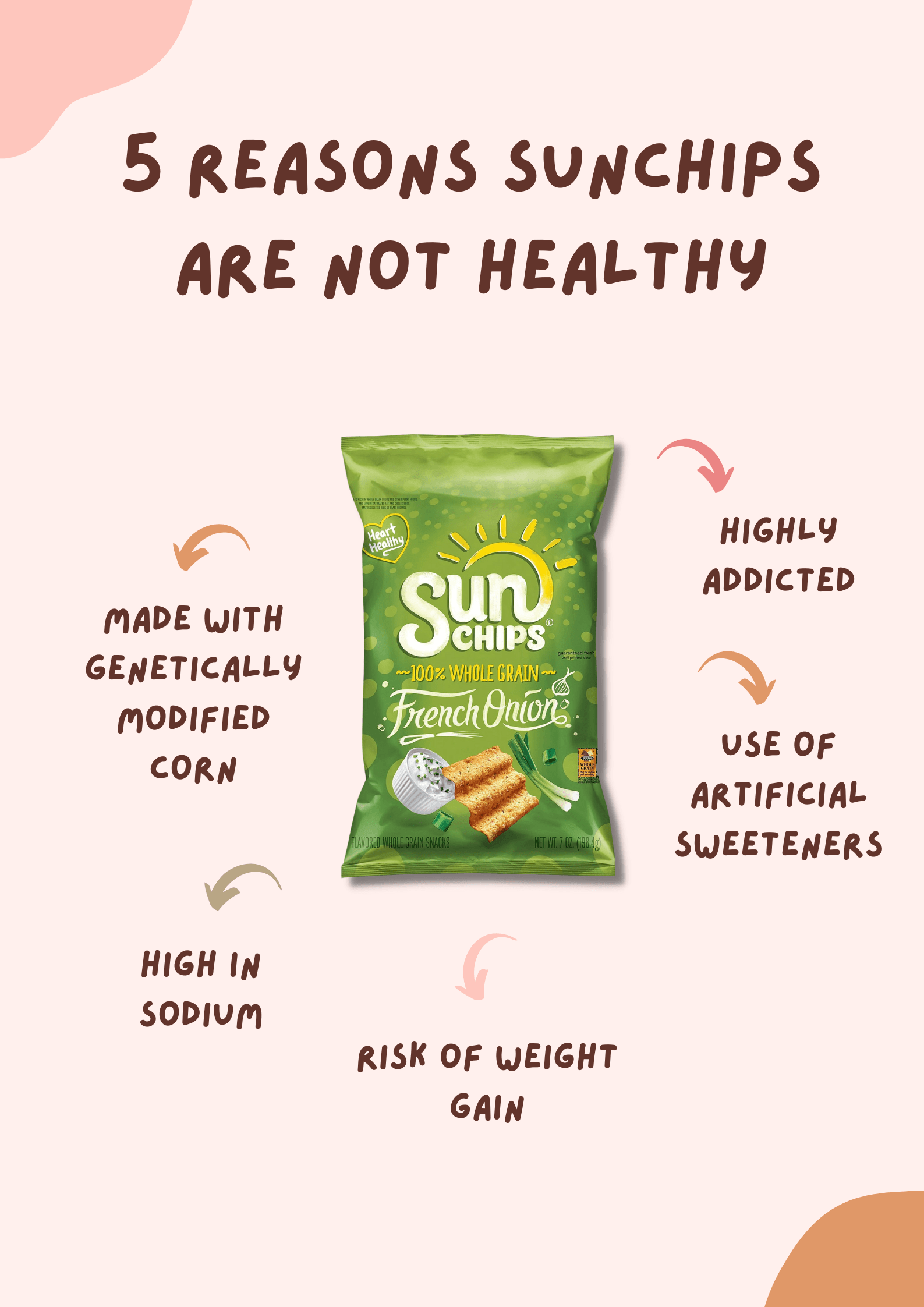 1. Made with genetically modified corn
Did you know that the corn used to make Sunchips are genetically modified? – That's right.
Genetically modified means that the DNA of the corn is changed to resist pests and herbicides. This makes the production of corn chips more efficient and less expensive.
However, there is safety concern on consuming genetically modified corn chips. Some studies claim they are safe, while others maintain that more research is needed.
Some studies claim that genetically modified foods pose toxic effects such as hepatic, pancreatic, or reproductive effects. These foods can also trigger potential allergies in people.
Surprisingly some studies have also reported the presence of weedkillers in Sunchips, such as glyphosate, at a very high level which is very dangerous for human health.
Glyphosate is a carcinogen linked with the damaging hormone system, triggering major damage to the kidneys and other vital organs.
2. Moderate in sodium
Sodium is one of the crucial ingredients in food as it improves the flavor of the food and extends its shelf life.
However, eating too many sodium-packed foods can be really bad for your health.
Depending on your chosen flavor, a single serving (28g) of Sunchips contains 110-170mg of sodium.
Although this amount of sodium is not too much, it's worth noting that most people already consume enough sodium from their regular diet.
Eating Sunchips on top of that increase the sodium levels in the body, increasing the risk of health issues such as high blood pressure, stroke, dehydration, and weight gain.
Here is the sodium content of all the flavors of Sunchips.
| Flavor | Sodium(mg) |
| --- | --- |
| Original | 110 |
| Garden salsa | 140 |
| French onion | 140 |
| Harvest cheddar | 170 |
| Chili lime | 170 |
| Black beans | 170 |
| Spicy jalapeno | 170 |
Serving per 28g
3. Use of artificial sweeteners
Although it is good that Sunchips contain little sugar, they instead use artificial sweeteners.
Sunchips have two artificial sweeteners, i.e., maltodextrin and dextrose, which pose some health risks.
For instance, maltodextrin has a high glycemic index, which can be dangerous for people with diabetes, as it increases the risk of blood sugar levels. It also has been associated with weight gain, skin irritation, and digestive issues in some people.
On the other hand, consumption of dextrose has been linked with frequent urination, skin problems, vomiting, and stomach pain.
Note that both artificial sweeteners are safe in limited amounts, but most packaged foods nowadays use these sweeteners, which increases the risk of overconsumption.
4. Risk of weight gain
While Sunchips are delicious and crunchy to eat, they can lead to weight gain if you overeat.
A serving (28g)of Sunchips comes with 140 calories and 6g of fat. At first glance, the number of calories and fat may seem small, but that's only for one serving, which no one sticks to.
In addition, the presence of refined carbs, sodium, and artificial sweeteners increases the risk of weight gain.
Are Sunchips keto? Sunchips are not keto friendly as they are high in carbohydrates with 18-19g per serving.
5. Highly Addicted
All chips – whether potato or corn – are crammed with flavors that are hard to say no to.
However, the bright side of Sunchips is that it does not use any artificial flavors. Even still, it is crucial to moderate your consumption.
The sodium, natural flavors, artificial sweeteners, and addition of lactic and citric acid in Sunchips make it extremely addictive. This makes it all too easy to overindulge in one sitting.
Therefore, some advice against eating directly from SunChips bags and instead recommend eating from bowls.
Are Sunchips baked or fried?
Sunchips are fried and not baked. They contain 6g of fat per serving, mostly from sunflower/canola oil. 
These vegetables oils are highly processed and adds extra calories to the Sunchips.
However, compared to regular chips, Sunchips have 30% less fat.
Are Sunchips gluten-free?
Sunchips are not gluten-free as they contain whole wheat or whole wheat flour as one of the ingredients.
Are Sunchips vegan?
Only the original flavor of the Sunchips is vegan.
All other flavors contain cheese, whey protein concentrate, buttermilk, skim milk, sour cream making them non-vegan-friendly.
Are Sunchips better than other chips?
Compared to other chips on the market, Sunchips are surprisingly much better. Some of how they surpass other chips include:
Sunchips are free from artificial flavor, color, and MSG.
Sunchips contain very few overall additives.
Sunchips come with double the amount of fiber than other chips.
Sunchips are made with whole grains, which is a plus.
Sunchips are low in calories and have less sodium than other chips.
Here is the table that shows a quick comparison between Sunchips and other chips.
| Chips | Calories | Sodium(mg) | Fat(g) | Fiber(g) |
| --- | --- | --- | --- | --- |
| Sunchips | 140 | 110-170 | 6 | 2 |
| Lays | 150 | 270 | 1 | 1 |
| Doritos | 150 | 180-190 | 8 | 1 |
| Pringles | 146 | 130-190 | 3.9 | 1 |
Serving per 28g
Final words
In conclusion, Sunchips are not healthy for you as they are highly addictive, made with genetically modified corn, use artificial sweeteners, and are high in sodium and calories, which increase the risk of weight gain.
However, they are better in terms of nutrition and ingredients than many other chips.
So, if you want to snack on something occasionally, then Sunchips are one of the best snacking options you can go for. But for regularly, it's a big NO.
Found this information helpful? Do share it.
Here are a few other posts that might also be helpful for you:
FAQs about Sunchips
Are Sunchips good for diabetics?
Sunchips are not good for diabetics as it comes with maltodextrin which has high glycemic index. Plus it comes with refined carbs which might elevate blood sugar levels.
Overall chips are never a healthy choice for people with diabetes.
Are Sunchips keto-friendly?
Sunchips are not keto-friendly as they are high in carbs(19g per serving).
How many calories are in a bag of Sunchips?
A bag of Sunchips weight around 198g comes with whopping 980 calories.
Do Sunchips contain MSG?
Sunchips does not contain MSG and rather used natural flavors to enhance the flavors.
How much sugar is in Sunchips?
Sunchips are low in sugar with most flavors containing 2g of added sugar per serving. The Sunchips black beans contain just 1g of added sugar per serving.