Quest chips are one of the most popular tortilla style protein chips that provide the same crunch and satisfying taste as regular tortilla chips.
The chips are made with natural and dairy-based ingredients and are relatively high in protein containing all essential amino acids.
And while they also are low in carbs, taste great, and are convenient, are Quest chips truly healthy?
Short answer: Quest chips are healthy as they are high in protein, low in carbohydrates and sugar, and made with healthy ingredients. However, it's important to note that they are still processed and have a moderate calorie content, so they should be consumed in moderation.
In this post, I have shared a list of 5 reasons why Quest chips are good for your health.
But before getting to the list, let's look over Quest chips nutritional value and ingredients.
Also read: The Truth About Popcorners: Are They Really Healthy?
Nutritional value of Quest chips
Quest chips are available in 8 different flavors, including Loaded taco, Nacho Cheese, Ranch, Chili lime, Sour cream & onion, Cheddar & sour cream, BBQ, and Spicy sweet chili.
Here is the nutritional value of all the Quest chips flavors per 32g serving: 
| | | | | | | | | |
| --- | --- | --- | --- | --- | --- | --- | --- | --- |
| Flavor | Calories(g) | Carbs(g) | Sugar(g) | Fat(g) | Protein(g) | Fiber(g) | Calcium(g) | Sodium(g) |
| Loaded taco | 140 | 5 | <1 | 5 | 19 | 1 | 170 | 290 |
| Nacho cheese | 150 | 5 | 1 | 6 | 18 | 1 | 170 | 330 |
| Ranch | 140 | 5 | 1 | 5 | 19 | 1 | 180 | 300 |
| Spicy sweet chili | 140 | 5 | 1 | 5 | 19 | 1 | 160 | 290 |
| Cheddar & sour cream | 140 | 5 | <1 | 5 | 19 | 1 | 180 | 340 |
| Sour cream & onion | 140 | 5 | 1 | 5 | 19 | 1 | 180 | 340 |
| BBQ | 140 | 5 | 1 | 5 | 19 | 1 | 160 | 330 |
| Chili lime | 140 | 4 | <1 | 4.5 | 20 | 1 | 170 | 320 |
What are Quest chips made of?
Quest chips are made with various ingredients that vary based on flavor. 
However, some of the common and key ingredients that you will find in every flavor include:
Protein blend(Milk protein isolate & Whey protein isolate)
High oleic sunflower oil
Calcium caseinate
Corn starch
Natural flavors
Psyllium Husk,
Salt 
You might also find other ingredients in Quest chips based on flavor, but they make up less than 2% of the total ingredients.
Also read: Are Quest Cookies Healthy? Here Is The Answer
5 Reasons Quest chips are healthy for you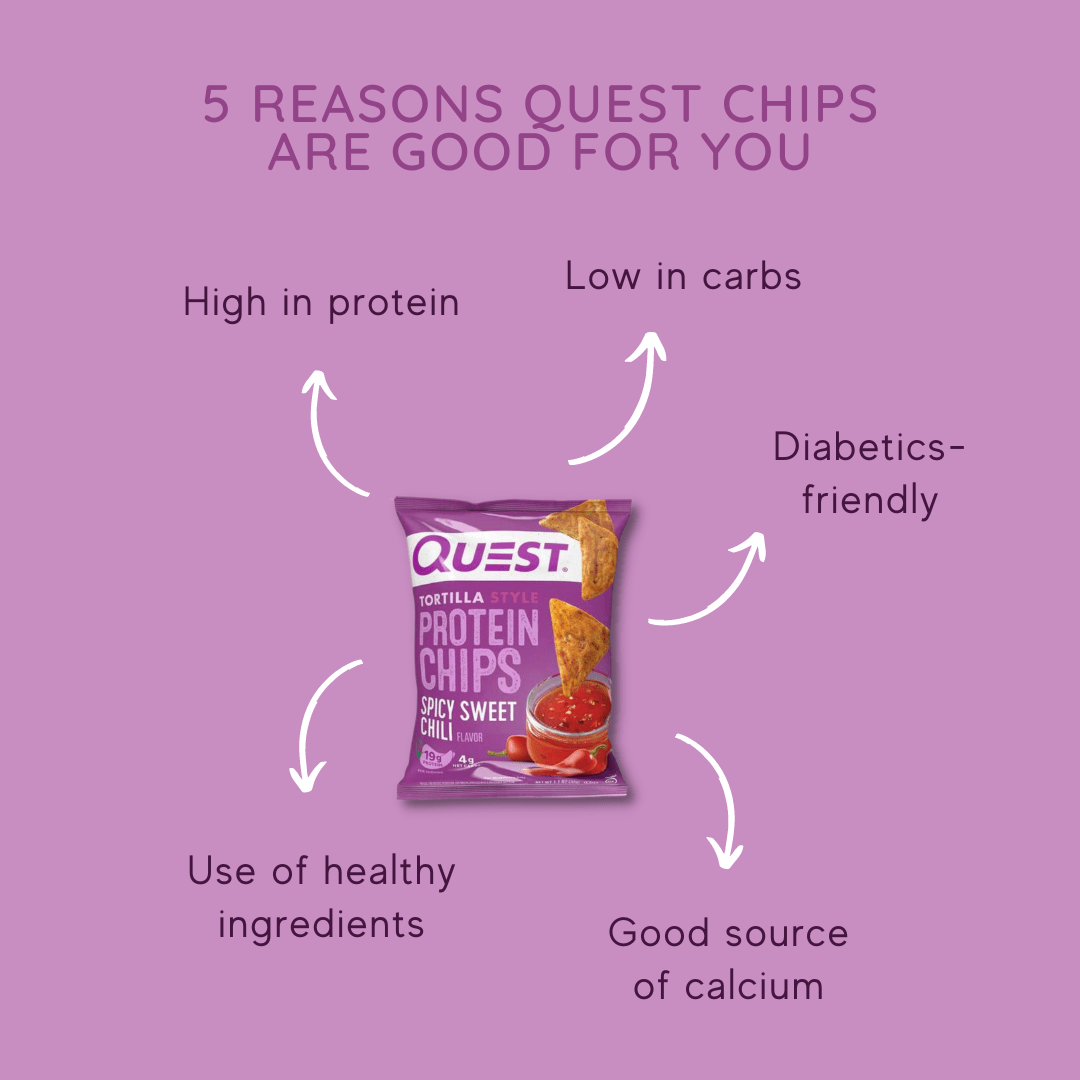 Extremely high in protein
There is a reason why these chips are called Quest protein chips.
Quest chips are made with a blend of milk protein isolate and whey protein isolate, making them an excellent protein source. 
Each bag(32g) of Quest chips contains about 18-20g of protein, which is the same amount of protein found in a serving(60g) of Quest's protein bars.
If compared to other popular chips, such as Lays, Doritos, Cheetos, or Pringles, Quest chips contain 10x more protein.
| Chips brand | Serving size | Protein |
| --- | --- | --- |
| Quest | 32g | 20g |
| Lays classic | 28g | 2g |
| Doritos | 28g | 2g |
| Cheetos | 28g | 2g |
| Pringles | 28g | 1g |
| Fritos | 28g | 2g |
Even when compared to other high protein chips such as Popcorners flex energy protein chips or RiteBite Max Protein Chips, Quest chips contain nearly double the protein in a small serving.
This makes Quest chips an extremely good choice for people who want to enjoy a high-protein snack on the go.
Low in carbs
Quest chips are low in carbs, making them an ideal snack option for those on a low-carb diet such as keto. 
Each bag or serving of Quest protein chips contains only 5g of carbohydrates, making them a great alternative to traditional chips that are often high in carbs.
Good source of calcium
Most people only consider the protein content when they eat Quest chips, but very few know that they are also a good source of calcium. 
A single bag or serving of quest chips contains about 160-180mg of calcium which is about 16-18 percent of the DV for calcium. 
That's nearly the same amount of calcium you would normally get in a 3/4 cup of yogurt.
Calcium is important for bone health and for preventing osteoporosis. It's also necessary for proper muscle contractions and maintaining a healthy heartbeat.
Uses healthy ingredients
One of the main reasons why Quest chips are considered healthy is the use of safe ingredients across its flavors.
These ingredients include psyllium husk, vegetables, chia seeds, and spices.
Chia seeds and psyllium husk are two ingredients that help to lower cholesterol and ease digestion. At the same time, spices are used to give Quest chips a delicious flavoring and coloring.
Whereas if you look at the ingredients of popular traditional chips, you will find lots of unhealthy ingredients such as sugar, high fructose corn syrup, sodium bisulfite, maltodextrin, palm oil, artificial flavors & colors, and preservatives.
Fortunately, that's not the case with Quest protein chips.
Diabetics friendly
Quest chips are a great snacking option for people with diabetes because they are high in protein and low in carbohydrates and sugar. 
In addition, they use healthy ingredients like psyllium husk, which is a source of soluble fiber that can help regulate blood sugar levels. 
However, they still are moderate in calories; therefore, it is important to eat them in moderation.
Are there any downsides to Quest chips?
While Quest chips are the healthiest alternative to traditional chips, they have two downsides.
Firstly, they have a moderate amount of sodium at 290-340mg per serving. Consuming too many Quest chips can contribute to an excessive intake of sodium, which can be problematic for individuals with high blood pressure. 
Secondly, while they are high in protein and low in carbs, they are still considered processed food. It is recommended to limit consumption to one serving or bag per day to ensure a balanced diet. 
Are Quest chips good for weight loss?
Quest chips are not the best food choice for weight loss due to their processed nature, low fiber content, and moderate calorie count.
However, when compared to traditional chips, Quest chips are a better option for weight loss diets (considering their protein and carbohydrate content), but it's important to consume them in moderation. 
Final words
Whether you are looking to increase your protein intake or include nutritious snacks in your diet, Quest chips are a great and healthy option.
However, remember that they are processed and are moderate in calories and therefore need to be consumed in moderation.
Found this information helpful? Share it.
Here are a few other posts that might also be helpful for you.
FAQs about Quest chips

Are Quest chips Baked Or Fried?
Quest chips are baked however they still have some fat content and that's because of the use high oleic sunflower oil.
Are Quest chips gluten-free?
All the flavors of Quest chips are gluten-free certified.
Are Quest chips suitable for vegans?
Quest chips are not suitable for vegans as they contain milk protein and other dairy ingredients such as milk powder and buttermilk.
Are Quest chips keto-friendly?
Quest chips are low in carbohydrates with 5g per serving, making them suitable for a ketogenic diet.
Are Quest chips non-GMO?
Yes, Quest chips are GMO free.
Do Quest chips contain MSG?
No, Quest chips does not contains MSG.