With the rise in diabetics and health concerns, more and more people are looking for healthy sugar alternatives. Due to this, the popularity of natural sweeteners such as stevia has been on the rise in India for a while now.
While there are a number of different brands of stevia available in India, it can be hard to choose the one you can trust and is safe for you.
Therefore, In this post, I have compiled the list of the best stevia brands that you can find in India. Whether you are trying to cut back on sugar or have diabetes, these stevia brands will not let you down.
But, before we get to the list, let's know about stevia a little more.
Also read: 10 Best Sugar-Free Muesli Brands in India You'll Love (2022)
What is stevia?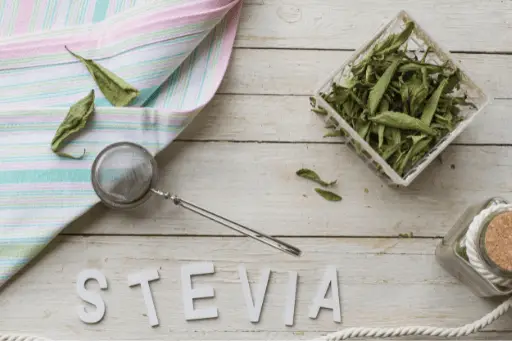 Stevia is a natural sweetener extracted from the leaves of the Stevia rebaudiana Bertoni plant. Unlike other artificial sweeteners, such as aspartame or saccharin, stevia is calorie-free and does not affect blood sugar levels. As a result, it has become popular among people having diabetes or prediabetes or looking to reduce their intake of added sugars.
The stevia is about 200-400 times sweeter than sugar and does not have any bitter aftertaste. Moreover, it also contains antioxidants and has been shown to have anti-inflammatory and antibacterial properties.
Why is stevia good for you?
As people become more health-conscious, more food companies are using stevia in their products. There are plenty of good reasons why including stevia in place of sugar is good for you, such as:
Stevia is calorie-free.
It helps regulate blood sugar levels and can be helpful for people with diabetes.
It has anti-inflammatory properties and can help to reduce inflammation in the body.
Stevia is good for people looking to lose weight.
Stevia is a great way to help prevent tooth decay.
It is antibacterial and can help to kill harmful bacteria in the gut.
It is also heat-stable and can be used in baking and cooking.
Some studies have shown that it can help lower your bad cholesterol.
10 Best stevia brands in India in 2022
While the FSSAI permitted the use of stevia in food & beverages in 2015, the stevia market in India is still at a nascent stage. However, with rising awareness about the benefits of stevia, the market is expected to grow rapidly in the next few years. Anyway, here are 10 of the best stevia brands in India.
Zevic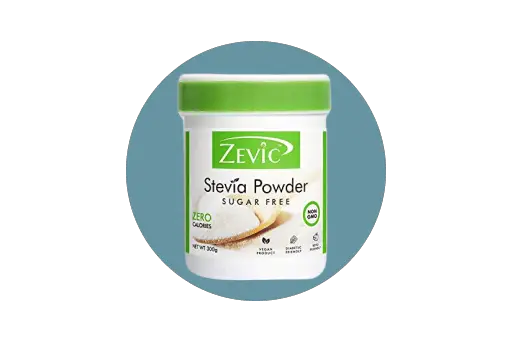 Zevic was launched in 2015 to address the issues associated with artificial sweeteners and sugar. It's mission is to provide a delicious, safe, and healthy alternative to sugar without any compromise. 
This stevia brand is capturing the Indian market with its high-quality products that come in a variety of forms such as powder, tablet, liquid, sachets, and leaves.
It has a variety of stevia-based product collections, including chocolates, spreads, cocoa powder, and various types of tea.
Benefits:
It offers a variety of products that use stevia for sweetness
100% natural
No unhealthy additives
So sweet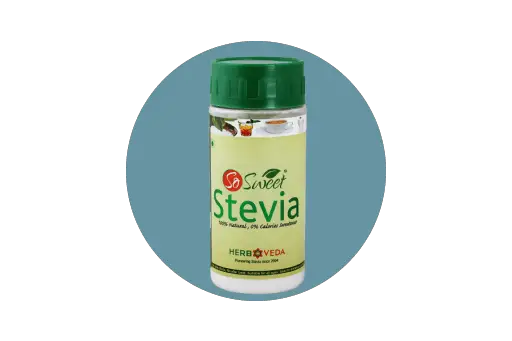 When looking for the best stevia brands in India, you can't overlook the stevia from the so sweet. This stevia is made using the 100% extract of stevia called Rev A97.
The company has become synonymous with Stevia in India and is one of the largest suppliers of Stevia to food and beverage manufacturers in the country.
The stevia from so sweet comes in all forms, including tablet, powder, and liquid, and is 100% water-soluble.
The brand also offers other natural sweeteners such as xylitol and erythritol that are suitable for diabetics and anyone looking to reduce their sugar intake.
Benefits:
100% natural and sugar-free
Free from additives like sucralose, aspartame, lactose, dextrose, and other artificial sweeteners
Suitable for people of all ages
Also read: Top 10 Healthiest Noodles Brands In India in 2022
Stevi0cal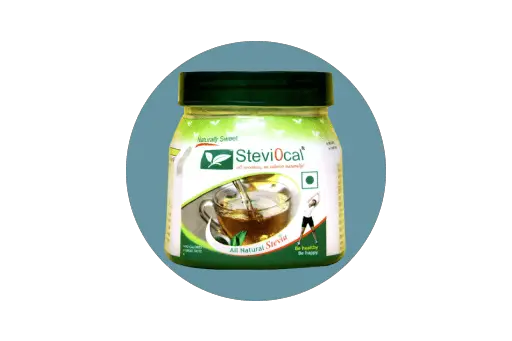 Stevi0cal is a Natural Calorie Free Stevia made from the best-tasting part of Stevia Leaves. It contains no sugar and no carbohydrates, making it an excellent choice for weight loss and a healthy lifestyle.
Whether you're looking to sweeten up your tea, coffee, or recipe, their products are the answer. They can be used to add natural sweetness to hot and cold beverages and various recipes.
With 15+ years of experience, they have made the great-tasting sweetness of Stevi0cal natural sweetener that has satisfied more than 10 thousand people till now.
The company also promised to refund your money if you don't like the sweetness of Stevi0cal Natural Sweetener.
So make sure to give this stevia brand a try right away.
Benefits:
100% natural and calorie-free
No artificial sweeteners
Taste great
It has Erythritol, which is a natural sweetener and safe for human consumption
Magic leaf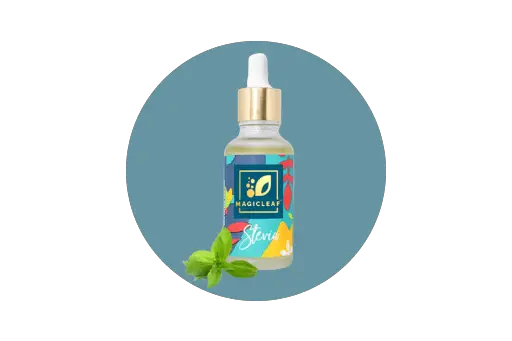 Magic leaf was started in December 2019 with an objective to help diabetic people enjoy a better quality of life without sugar or the harmful chemical-based low sugar alternatives on the market.
They have about 20 products listed on their official website, all made from natural sweeteners.
The brand offers stevia in all forms and has no harmful additives and artificial sweeteners. Plus, stevia powder is made from 99.9% Reb-A. This makes it one of the best stevia powders available in India.
Benefits:
100% natural ingredients
No artificial sweeteners used
No aftertaste
Suitable for people of all ages
Also read: 8 Best Sugar-Free Biscuits In India That You Must Try
Bliss of earth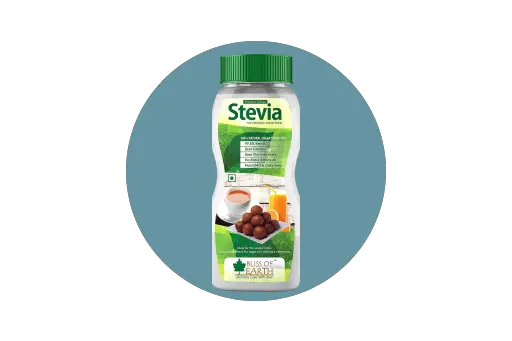 Started recently, the bliss of earth is a health and wellness brand that deals with a wide range of products such as dry fruits, seeds, spices, essential oil, skincare, etc.
Their stevia is made from 99.8% Reb-A, the highest among many other stevia powders available. REB-A (Rebaudioside-A) is the main compound extracted from Stevia leaves and is responsible for sweetening and improving the taste.
Their stevia is available in tablets, powder, and liquid.
Benefits:
Stevia with 99.8% Reb-A
100% natural free and calorie-free
Non-GMO
Instead of plastic bottles, their stevia comes in glass bottles
No glycerin, sucralose, or FOS used
Suitable for people of all ages
Organic India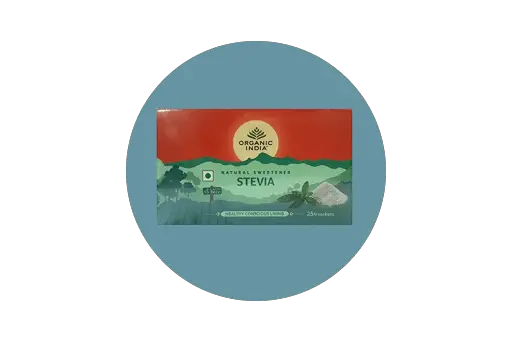 Started in 1997, organic India is a reputable herbal brand that provides genuine organic products straight from nature.
They have everything you need to improve your lifestyle, from teas to herbs, ghee, oils, spices, superfoods, and energy boosters.
Their stevia is 100% pure and made from only two ingredients—Steviol glycoside and erythritol.
If you love the touch of mother nature on your food, organic India is the brand you must try.
Benefits:
100% pure and calorie-free
No artificial additives
Suitable for people of all ages
Also read: 9 Best Quinoa Brands In India To Look Out For In 2022
Zindagi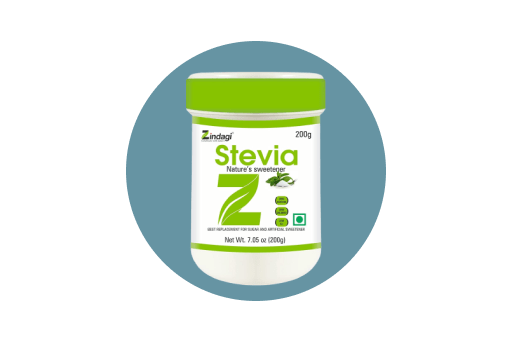 Zindagi, founded in 2012, is one of the leading stevia-sweetened product manufacturers in South Asia.
Their stevia is available in different forms such as powder, liquid, tablets, and leaves.
Their fosStevia, made from a unique combination of FOS and Stevia, is the most popular stevia. FOS stands for fructooligosaccharides which are probiotic substances found in various vegetables and fruits. It is a type of sweetener that is calorie-free and has many benefits for human health.
If you are looking for something different in stevia, you can try this probiotic-filled stevia from Zindagi.
Benefits:
Probiotics added
100% natural and calorie frees
No use of artificial sweeteners
Safe for children
BBETTER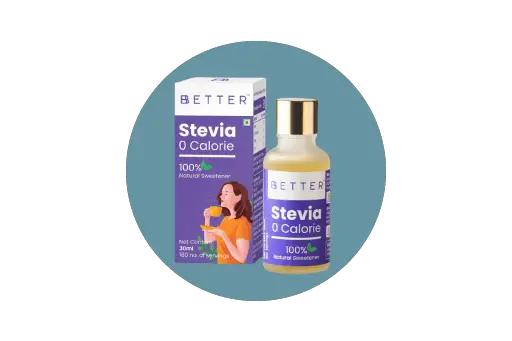 BBETTER is a high-end health supplement manufacturer owned by MonkSays Superfoods Pvt Ltd.
The brand offers a wide range of product collections related to stress and sleep, diabetic care, heart health, joint health, weight loss, etc.
This stevia brand is 100% natural, sugar-free, diabetic-friendly, and has no health issues. You will find glycerin in the ingredients section of this stevia but don't worry. It comes from vegetables and fruits and is the safest of all other additives.
Not only the stevia but also the other products from this brand undergo extensive testing. That means you can always safely recommend it to your friends and family.
Benefits:
100% sugar-free and diabetic friendly
Suitable for people of all ages
No artificial additive used
Also read: 10 Best Bread Brands In India For Every Taste And Budget
Sugar free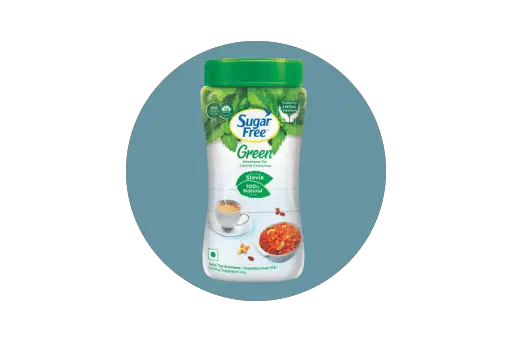 With over 25 years of experience, sugar free is India's first zero calories replacement for sugar. It is not only the oldest brand, but it is also one of the best stevia brands in the country.
The sugar free stevia is from Zydus Wellness. The same company has given us popular products like Complan, Glucon-D, Everyuth, Nycil, and Nutralite.
All the products from sugar free have been approved by USFDA, WHO, and FSSAI. So there is no trust issue. Moreover, It comes in a variety of forms, including powder, drops, and pellets, sachets, and is suitable for both consumption and cooking and baking.
There are three variants available from the brand: Sugar free natural, sugar free gold, and sugar free green.
Benefits:
Available in all formats, including powder, drops, pellet, and sachets.
Safe for the entire family, including kids
Approved by WHO and FSSAI
Downsides:
It consists of ingredients like dextrose, maltodextrin, and Aspartame.
Nutritual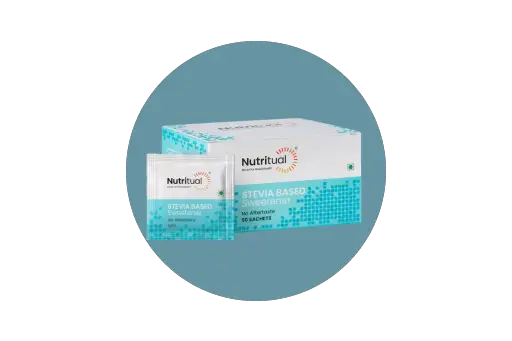 Nutritual is one of India's natural health care supplement brands. It offers various supplements such as pre and probiotic capsules, calcium tablets, multivitamin tablets, and male vitality tablets.
This brand also offers stevia made from the pure stevia leaf and dissolves easily in your foods and recipes. It also contains some additives, such as INS 955 (Sucralose) and INS 420 (sorbitol), which are mostly safe and permitted.
At the current date, they have only one stevia in powder form, which is suitable for the entire family, including kids.
Benefits:
100% made from stevia leaf
Good for people of all ages
Non-GMO
Downsides:
Due to the addition of artificial sweeteners such as sucralose and sorbitol, this stevia may cause digestive problems in people having weak digestive.
How to choose the right stevia brand for you?
There's no need to struggle to find the best stevia brands for you because the ones I've listed above are the best in India. Even so, if none of these are suitable for you. You should know how to pick the best stevia brand for you.
You need to keep in mind two things while selecting the stevia for you.
Always read the label
There are various types of stevia products available in the market, such as liquid stevia, powdered stevia, and stevia extract. Not all stevia products are created equal. Some Stevia has artificial additives and flavors, while others are pure and contain no additives.
It is best to avoid stevia that contains two common additives — maltodextrin or dextrose as both can spike your blood sugar just like sugar. Other common additives that you need to avoid include sucralose, aspartame, sodium saccharin, sodium cyclamate, and sorbitol.
If possible, buy powdered stevia
Shelf-stable liquid stevia requires preservatives and processing, whereas powder forms of stevia are generally less processed and contain fewer or no preservatives.
Also, if you want a minimally processed Stevia product, look for one that says "whole leaf stevia" so you can consume Stevia in its purest form.
Are there any dangers of using stevia?
Stevia has been used as a sweetener for centuries and is generally considered safe. However, there may be some potential dangers associated with its use. Such as:
Some stevia products with added sugar alcohols can cause stomach cramps, nausea, vomiting, bloating, and indigestion.
People who are allergic to stevia should avoid using it.
Many experts believe that consuming stevia for long or in large quantities could lead to hypoglycemia (low blood sugar). However, there is not enough evidence for this.
People with medical conditions or certain medications should discuss with their doctor before using stevia.
Consuming stevia in moderation is safe during pregnancy. However, some stevia products on the market contain saccharin, which is harmful during pregnancy.
Keep in mind that these risks are more common in stevia that contains artificial sweeteners and other potentially harmful ingredients or when you consume too much.
Tip: Remember that stevia is much sweeter than table sugar, so you won't need to use too much of it.
Final words
Stevia is a godsend for people who want to reduce their sugar intake, lose weight, or manage diabetes. The only considerations are to avoid consuming too much and to avoid stevia products that contains unnecessary additives.
The stevia brands listed above are some of the best you'll find in India, so pick one that appeals to you. However, the last two stevia brands (Sugar free and Nutritual) contain artificial sweeteners, so you should use caution when using them.
I hope this information has helped you find the right stevia brand for yourself.
Found this information helpful? Share it with others.