Healthy eating is on everyone's mind these days. Though it can be hard to cut out sugar entirely, choosing a sugar-free muesli brand is a great way to reduce your intake and ensure you're getting the nutrients you need. Mueslis are typically made of whole grains, nuts, and dried fruit, so they're a healthy and nutritious breakfast option whether you're trying to cut down on sugar or not. Plus, they are high in fiber, protein, and various vitamins and minerals, making them the perfect way to fuel your body for the day ahead. You can enjoy them with milk, yogurt, or even just by themselves as a snack.
If you are looking for a good muesli brand to try, I have compiled a list of the best sugar-free muesli brands In India in 2022. I genuinely believe that all these muesli brands will not let you down.
But first, let's see why should you eat muesli.
Also read: 10 Best Stevia Brands In India For The Health Conscious (2022)
Health benefits of sugar-free muesli
Although muesli is available in both sugar-free and sugar-added varieties. The sugar-free variety is healthier for you because it contains fewer calories and less sugar. In addition, it has more benefits than the sugar-added one, such as:
Good for diabetes
Refined sugar is one of the biggest enemies of diabetes as it causes a very rapid spike in blood sugar levels. Therefore it's best to choose muesli brands with natural sugar or no sugar at all.
Sugar-free muesli can be beneficial for people with diabetes to keep blood sugar levels stable and may even help to reduce the risk of developing type 2 diabetes.
Suitable for weight loss
If you are looking to lose some weight, you must cut down your intake of sugar and sugar-containing products.
In this case, sugar-free mueslis are one of the best options to cut down the sugar and provide essential nutrients to your body.
Packed with essential nutrients
It's well known that mueslis are packed with many essential nutrients such as protein, fiber, iron, potassium and calcium. However, if your muesli is also loaded with sugar, these nutrients may not get fully absorbed by your body.
Studies have shown that excessive sugar consumption leads to fast calcium depletion from the body through urine. Also, it strips your body's stores of magnesium.
You can avoid these problems by opting for sugar-free muesli for yourself.
The healthy way to start your morning
Muesli is a high-fiber breakfast cereal that is a good source of protein, vitamins, minerals, and antioxidants. It can help you start your day with sustained energy and help you to feel full until lunchtime.
Good for your heart
Mueslis are packed with oats which contain a type of fiber called beta-glucan.
Studies have shown that beta-glucan can help lower bad cholesterol levels and inflammation markers, which are significant contributors to heart disease. In addition, beta-glucan has been shown to improve blood sugar control and insulin sensitivity, which can also help reduce the risk of heart disease.
10 Best sugar-free muesli brands in India
If you see sugar in the nutrition section of any of the muesli brands listed below, it's the natural sugar found in the ingredients, not added sugar. So let's get started with the reviews of the 10 best sugar-free muesli brands in India.
Yoga bar Super muesli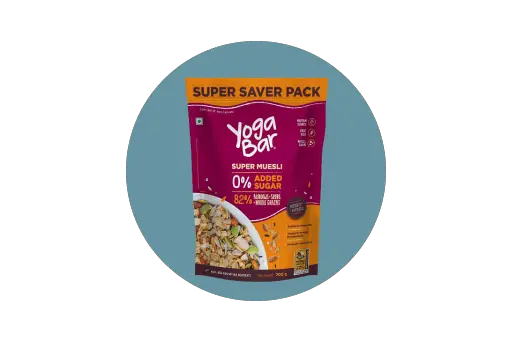 Yoga Bar is a nutrition-focused food company that sells Protein Bars, Oats, Muesli, and Quinoa Peanut Butters, among other healthy snack options. All their products are natural and have no artificial preservatives.
The Yoga bar super muesli is one of the best sugar-free muesli brands that you can find in India. The brand claims that its muesli has the least natural sugar among leading no-added-sugar muesli brands. It is made with 82% almonds, whole grains, chia seeds and flax seeds. 
In addition, it's a great source of calcium, iron, zinc, potassium and other nutrients. 
A single serving provides:
7 grams of protein
6 grams of fiber
22 grams of carb
Key features:
No added sugar
No apple juice concentrate, honey or malt extract
It comes with probiotics & prebiotics for gut health
Gluten-free
No artificial colours and preservatives
High in protein and fiber
Other muesli varieties they offer include:
Almonds + Quinoa wholegrains muesli
Cranberries wholegrain muesli
Fruits, nuts and seeds wholegrain muesli
Dark chocolate + cranberries muesli
Also read: 8 Best Sugar-Free Biscuits In India That You Must Try
Kellog's Muesli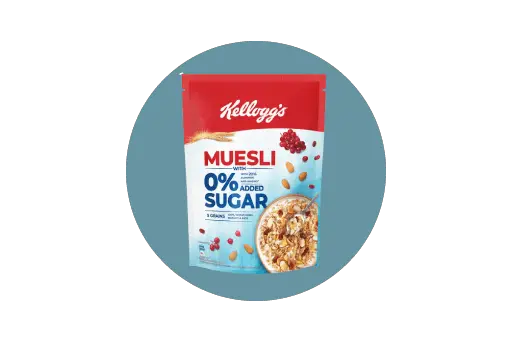 Kellog's is one of the oldest breakfast cereal companies in India. Their most popular breakfast cereal, corn flakes and chocos, is still loved by many people In India.
However, their no added sugar muesli has caught my attention. Made with the goodness of five baked grains (wheat, corn, rice, barley, and oats), this muesli is sure to brighten your day. It's also infused with almonds and raisins, making it a more nourishing and delicious breakfast.
Kellogg's Muesli is High in Iron, B vitamins, and Folate. It also contains a good amount of fibre to keep your body from craving unneeded food until lunchtime.
A single serving provides:
3.2 grams of protein
2.1 grams of fiber
30 grams of carb
Key features:
Made with wheat, rice, corn, barley and oats
No added sugar
High in B vitamins
Naturally cholesterol free
Low in sodium
Other muesli varieties they offer include:
20% Nuts delight muesli
21% fruit, nut & seeds muesli
22% fruits magic muesli
The whole truth no added sugar muesli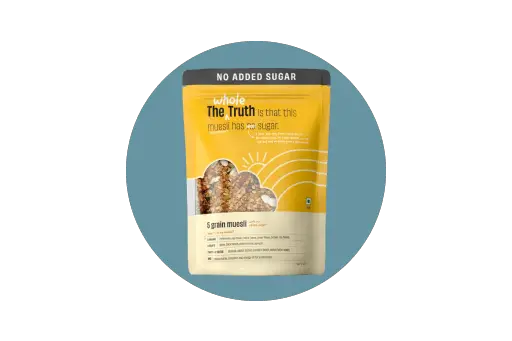 The whole truth is one of India's best organic food brands that does not hide any of the ingredients used in their products. They have a wide range of products, including chocolate, nut butter, energy bars, protein bars, and muesli.
Their no added sugar muesli is made with five different grains, four different fruits, and two different seeds, making it highly nutritious. Furthermore, it contains no artificial sweeteners or colours.
A single serving provides:
6.2 grams of protein
3.7 grams of fiber
24 grams of carb
Key features:
Made using five kinds of grains (rolled oats, ragi flakes, bajra flakes, jowar flakes and brown rice flakes)
No malt extract
No apple juice concentrate
100% Vegan
No artificial sweeteners, dairy, preservatives and gluten
Good amount of protein and fiber
Other muesli varieties they offer include:
Choco fruit crunch muesli
Nuts, Fruits & seeds muesli
Almond choco crunch muesli
Quinoa choco crunch muesli
True Elements no added sugar muesli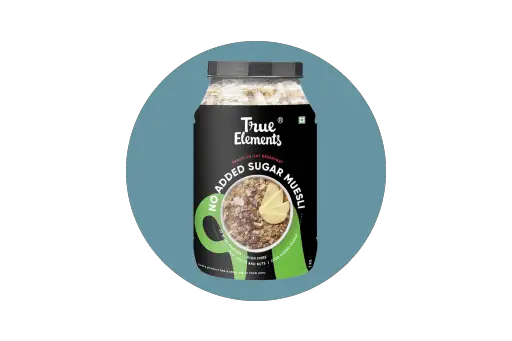 True Elements is India's first Clean Label and Wholegrain certified food brand. The brand deals with different food products, including Oats, Muesli, Granola, Seeds, Seeds Mixes, Pancakes, Dosa, Upma & more.
Their sugar-free muesli is made using high-quality ingredients such as wheat flakes, rolled oats, jowar flakes, seeds and dried fruits. It's also high in vitamins and minerals, which will help you feel energised and healthy.
A single serving provides:
5.4 grams of protein
4.5 grams of fiber
28 grams of carb
Key features:
Cholesterol and trans-fat free
No artificial flavours and preservatives
Good source of protein and fiber
Contains gluten
Other muesli varieties they offer include:
Crunchy Nuts and berries muesli
Fruits and nut muesli
Chocolate muesli
Cranberry and blueberry muesli 
Tata Soulfull Zero Added Sugar Millet Muesli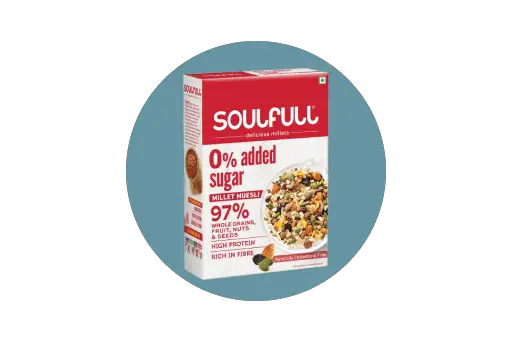 We Indians trust Tata more than any other brand because it is the oldest. We've been using their products for many years.
The sugar-free muesli from Tata Soulfull is packed with the crunch of 97% whole grains, fruit, nuts and seeds. Plus, it is packed with protein and is an excellent source of dietary fiber that will help you feel full for a longer time.
A single serving provides:
5 grams of protein
5.7 grams of fiber
31 grams carb
Key features:
Made using whole grains
Good source of fiber
No added sugar
Cholesterol free
Other muesli varieties they offer include:
Crunchy millet muesli
Fruits, nuts & seeds millet muesli
Chocolate & Cranberry Millet Muesli
Yummsy granola muesli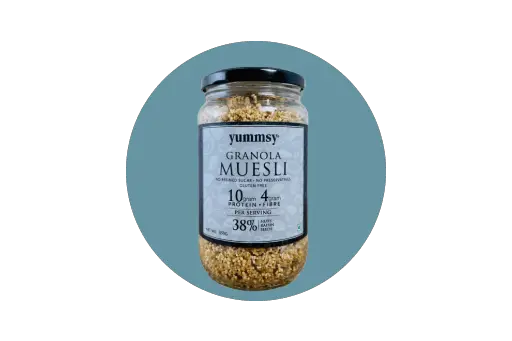 Yummsy began in a small kitchen in 2017 with a mission to create products using the finest raw ingredients available in the natural market.
All their products, including mueslis, laddus, bars and nut butters, are prepared with proven age-old techniques without refined sugar and preservatives.
Their granola muesli is 100% sugar and gluten-free. It uses almonds, raisins, seeds(flax, sunflower, pumpkin), oats, amaranth, and peanuts, making it extremely healthy for your body.
A single serving provides:
8 grams of protein
3.2 grams of fiber
25 grams of carb
Key features:
Good source of protein
No added sugar, preservatives and gluten
Not baked
Use of raw honey
Other muesli varieties they offer include:
Classic granola muesli
Sweetless muesli
Choco granola muesli
Choco trail mixed muesli
Nourish you quinoa Muesli
Nourish You, founded in 2013, began its journey with homegrown quinoa and chia seeds. At present, they offer a variety of 100% organic food products.
Their quinoa muesli is 100% sugar-free and made from natural grains, dried fruits, nuts and seeds. Plus, it's a good source of dietary fiber and protein, among other nutrients that give you the energy you need at the start of the day.
A single serving provides:
4.9 grams of protein
3.1 grams of fiber
28 grams of carb
Key features:
No added sugar and artificial colours
Made with organic ingredients
Average source of nutrients
Other muesli varieties they offer include:
Chocolate & banana
Honey and nuts
9GRAMS Millet Muesli
Started in 2019, 9Grams is an Indian breakfast brand that makes Muesli, Energy bars, and spreads with natural ingredients. All of their products are free of harmful chemicals and unnecessary food additives.
Their millet muesli is made with oats, ragi, pure cocoa, coconut oil, and almond chunks and is sugar-free. It's also flavoured with chocolate and raisins to make it more nutritious and tasty.
In addition, the 9Grams millet muesli contains the most protein of any of the sugar-free muesli brands on this list.
A single serving provides:
9 grams of protein
3.1 grams of fiber
24 grams of carb
Key features:
Rolled oats as the main ingredient
High in protein
Free of preservatives and hydrogenated oil
Cholesterol free
Low in saturated fats
No refined or added sugar
Other muesli varieties they offer include:
Hazelnuts & cocoa millet muesli
Figs, honey & almonds millet muesli
Seeds & cranberry millet muesli
Neuherbs omega muesli
Founded by two brothers, neuherbs is one of India's leading health and wellness brands. The company began by selling apple cider vinegar and green coffee and has since expanded to include everything from diet and nutrition to ayurvedic products.
Their omega muesli is one that you should try at once. It is sugar-free and contains omega-3, beneficial to people who have heart problems. Omega-3 fatty acids help lower blood pressure, triglyceride levels, and abnormal heart rhythm. The muesli is gluten-free and made entirely of natural ingredients.
A single serving provides:
4.1 grams of protein
3.5 grams of fiber
27 grams of carb
Key features:
Naturally gluten-free
Zero added sugar
Rich in omega-3
Average source of protein and fiber
Millets as the main ingredient
Alpen muesli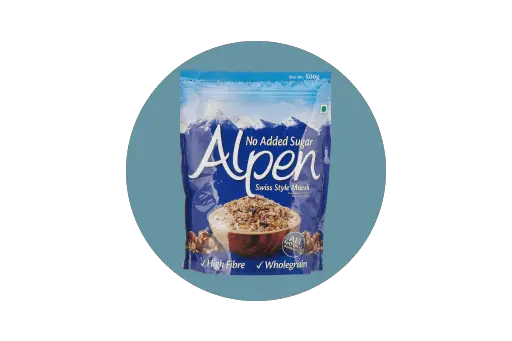 Alpen is the second oldest breakfast cereal brand on this list. The brand's first muesli, the UK's first swiss muesli, was introduced in 1971. It has remained a popular choice among many people since then.
This swiss style muesli is 100% sugar-free and made from wheat, oats with raisins, roasted sliced hazelnuts and almonds. If you want to try a different muesli style, this is the right option to go with. 
A single serving provides:
4.7 grams of protein
2.7 grams of fiber
26 grams of carb
Key features:
No added sugar
Made from whole grains
Low in sodium
Not gluten-free
Other muesli varieties they offer include:
The original
Simply berries
Chocolate
How to choose the right sugar-free muesli brand for you
While buying muesli, it's not about only looking for sugar-free options. There are some other things also you should look for when buying muesli for yourself.
Content
When choosing muesli, always check the ingredients and the amount of nutrition present. It's best to choose muesli made from 100% whole grains such as millets, oats or barley. Also, if you want to build muscle, it's best to choose muesli, which is high in protein.
Also, make sure your muesli is free of artificial colours and preservatives and is low in sodium. Furthermore, look for muesli free of cholesterol and low in saturated fats.
Allergen information
According to some estimates, about 3 to 4% of the Indian population has food allergies. If you are one of them, it's important that you carefully look for the allergen information on the packet while buying muesli.
Flavours
Flavourings are ingredients added to foods in minimal amounts, either to give a specific flavour to a product. While flavours can be of many types, it's best if you choose muesli with natural flavours.
Final words
As people become more health-conscious, they are looking for the perfect breakfast options to help them start their day nutritiously, and muesli is one of the best options.
The muesli brands listed above are sugar-free and among the best available in India. These brands have a wide range of flavours and textures, so you're sure to find something you enjoy. Plus, they're all sugar-free and healthy, so you can indulge without risking your health.
Found this information helpful? Share it with people who are always searching for something good at the breakfast table.
Meanwhile, here are some other posts that might be helpful for you: