Most parents will agree that feeding a picky eater child is one of the most challenging things.
Due to this, many parents look for health and nutrition drinks for their children, so they don't have to constantly worry about their child's nutrition.
However, choosing a nutrition drink for kids is not easy, especially when there are so many nutrition drinks available in India.
While there are many nutritional brands in the market, one that has been trusted and consumed by kids for 75 years is Complan.
Complan is a well-known brand in nutrition and health drinks in India. Made from milk solids, it claims to support 2x faster growth, memory & concentration and immunity for your child.
However, many people ask if Complan is worth the money. Or, more importantly, is Complan good for health?
If you are thinking of buying Complan for your child, this post is a must-read.
In this post, I have listed all the benefits and side effects of the Complan to help you decide whether or not it is good for health.
So let's begin.
Also read: Is Pediasure Good For kids? Potential Benefits And Downsides
Nutritional value of Complan
The Complan claims it contains 34 vital nutrients to support the child's development and functioning. A single one-time serving of Complan, which is about 30g, provides:
126 calories
19g of carbohydrates
6.5g of sugar
3.3g of fat
5.4g of protein
240mg of calcium
4mg of iron
120mg of sodium
Some other nutrients you will find in Complan are Vitamins A, B1, B2, B3, B5, B6, B7, B9, C, D, E, K, and B12, as well as minerals like Phosphorus, magnesium, zinc, manganese, chromium, iodine, choline, copper, zinc, selenium, potassium, chloride, and molybdenum.
Ingredients in Complan
The common ingredients that are used among all Complan flavours include:
Milk solids
Sugar
Peanut oil
Maltodextrin
Caramel (INS 150c)
Inositol
Taurine
L-carnitine
Natural flavour
Artificial flavour
Benefits of drinking Complan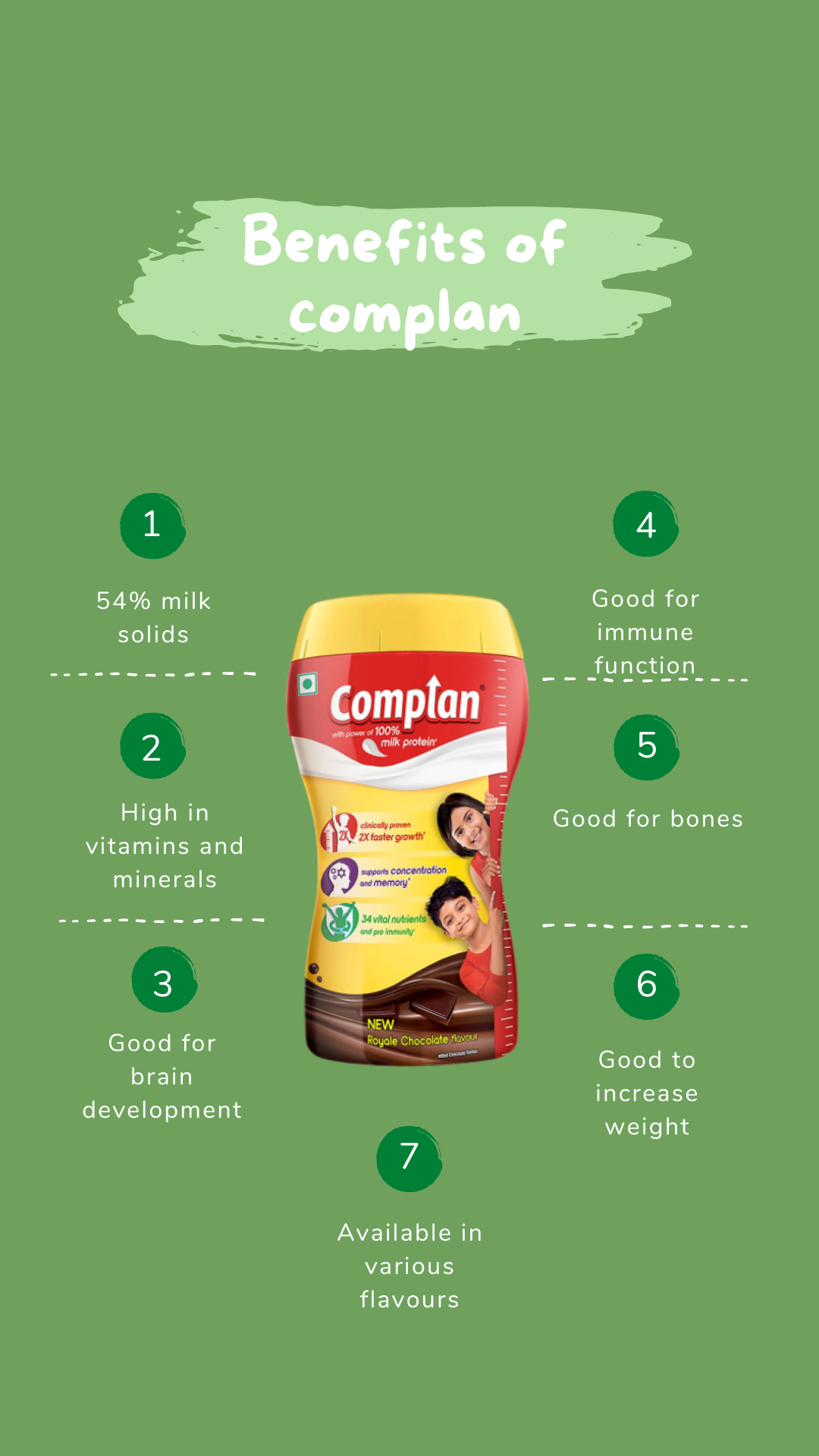 Made from milk solids
The thing that separate complan from other nutrition drinks on the market is that it uses milk solids as the base ingredient. In contrast, other nutrition drinks use malt extract as the base ingredient.
Milk solids are the solid part of milk that remains after the water has been removed.
Complan is made up of 54% milk solids which provides numerous benefits to health, such as:
Complete protein (containing all 9 amino essential acids)
Bone and teeth development
Improve digestion
Reduced risk of cardiovascular disease
Immunity boosting
Also read: Nangrow vs. Pediasure: Which One Is Right For Your Child?
High in vitamins and minerals
Complan is packed with 34 essential nutrients for child growth. Of these, 12 are vitamins,15 are minerals, and the rest are some additional nutrients.
Not only complan has plenty of nutrients for your child, but the levels of these nutrients are also quite good.
For example, A single serving of Complan to your child can provide:
28% of daily protein
19% of daily vitamin A
36% of daily vitamin C
11% of daily vitamin D and K
15% of daily vitamin E
24% of daily calcium
47% of daily Phosphorus and much more
Not to forget that complan recommend two servings in a day, which eventually double the levels of nutrients that your child is getting.
Good for child brain development
Complan is packed with many essential nutrients to help your child's brain development.
It contains iron, folic acid, choline and vitamin B12, which are all critical for neurological and cognitive functioning.
Additionally, it contains iodine, which is essential to prevent brain damage in childhood.
Improve immune function
Children need a strong immune system as they are more vulnerable to infections and viruses. And the best you can do is provide them with all the necessary nutrients.
Complan contains immune nutrients like vitamins A, C, E, zinc, selenium and molybdenum. All these nutrients are important for initiating immunity, regulating excessive immune responses and enhancing various immune cell functions.
Good for bones
Complan has a high level of nutrients like calcium, vitamin D and magnesium, which can help your child grow stronger from the inside.
While calcium helps in the formation of the bones, Vitamin D helps the body to absorb calcium from the diet and magnesium is required for the proper utilisation of calcium.
Also read: Is Boost Good For Health? The Pros And Cons You Need To Know
Good for weight gain
Most children, especially picky eaters, miss many essential nutrients in their diet. As a result, they tend to be thinner and underweight, which can impact their brain or body development.
Complan can be an excellent choice for weight gain because it is packed with many essential nutrients in addition to high calories.
However, ensure that your child remains active; otherwise, this additional sugar and calories might lead to excess fat in your child's body, resulting in overweight.
Available in various flavours
It is a well-known fact that children tend to get bored quickly when they only consume a particular food or flavour of a drink.
This is why Complan comes in many different flavours, such as:
Royale Chocolate
Creamy classic
Kesar badam
Pista badam
This makes complan a good choice for parents who want to ensure their children get the nutrients they need regardless of the flavour.
Side effects of Complan
High in sugar
The first side effect or disadvantage of Complan is that it contains sugar.
A single serving comes with a 6.5g of sugar, approximately one and a half teaspoons.
Although this amount of sugar is lower than what many other nutrition drinks such as Bournvita (11 grams per serving) and Enfagrow (9 grams per serving) offer, it would be ideal if there was no sugar at all.
However, this is not a major issue as most children are active enough at this age to offset the extra sugar or calories they consume.
Use of maltodextrin
Maltodextrin is a white powder made from corn, rice, potato starch, or wheat. It is commonly used as a food additive and is often found in many packaged foods.
While maltodextrin is safe for most people, it can pose some risks such as bloating, gas and constipation.
Not for lactose intolerant
Complan is not suitable for children who are lactose intolerant (children who cannot digest milk or milk-based products).
Final words
After looking at both the side of Complan (Benefits & side effects), it is pretty easy to decide whether or not it is good for your child's health.
Per my verdict, Complan is definitely worth the money and is good for health. It contains milk protein and has high levels of vitamins and minerals, which can benefit the child's health in many ways.
Although it contains sugar, if your kid is active enough, there is no need to worry.
Remember that Complan is not a meal replacement for your child. You should not rely solely on Complan for all their nutrition. Be sure to give your child the right amount of fruits and vegetables.
I hope that this information has helped you in answering all your questions. If you still have any queries, let me know in the comment section.
Meanwhile, here are a few other posts that might be helpful for you:
FAQs
What is the best time to drink Complan?
The best time to drink Complan is 30 minutes before hitting the bed. This is because it contains milk protein which has been linked to promote sleep quality and muscle strength.
Can you drink Complan everyday?
Yes, it is safe to drink Complan everyday for a child. However make sure not to overdose it.
Is Complan good for adults?
Although complan can be consume by adults, it's more beneficial to go for other nutrition drinks in the market such as Proteinx or Horlicks as they have quite high level of nutrients.
What is the age limit for Complan?
Complan does not label an age limit on the package, but they have stated on their website that it is for school-going children. That means Complan can be consumed by children aged 3 years or older.